Collecting arcade games has always been an ebb and flow for me. There are periods where games fall into my lap, and other times where I have to drive to Georgia to make something happen. 2012 has been a busy year so far for games. First it was a couple of DECO minis in Kentucky, then it was a HUO Zwackery and Tapper out of Chicagoland, and now it was a call to clean out the remaining inventory of an operator who had moved to Monticello IN.

10 arcades, 4 pinballs, artwork & boards
Collecting arcade games will indirectly lead you to many different ancillary opportunities. Picking up games throughout Indiana has really introduced me to a state that was largely unfamiliar (born and raised in MI). Unfortunately, as much planning as I do to make arrangements to pick up huge hulking arcade games, I never seem to make the time to do much else.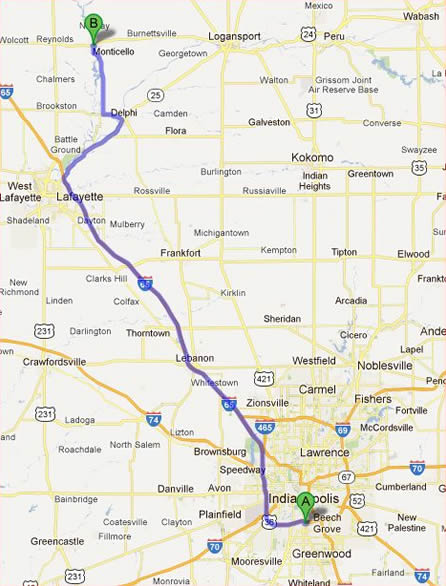 Monticello is partially known for Indiana Beach. I've seen it advertised a million times, and after loading up over 14 games I could have used a quick shoot down a water slide. But like many of these circumstances, and especially this one, it was not meant to be.
A sudden passing in the family
I got a note that there was a passing in a family, a father in law who used to run an arcade route had recently passed away and left a garage full of arcade games. On a Wed. evening Travis and I headed up to meet the gentleman with an easy to remember name – Jeff, and find out what would be the best next steps.
When we got to know Jeff, we really understood how great of a guy this former operator was in his community. Jeff talked about opening up his garage perpetually for a small local community gathering area, stocked with drinks and food. The op would always be helping those around him, fixing cars, mowing others lawns, whatever was needed, he was there even into his later years. Well revered and respected the passing had come suddenly and the family was sorting out what to do with his possessions.
Here is what we saw when we arrived (Thanks Travis for the photos).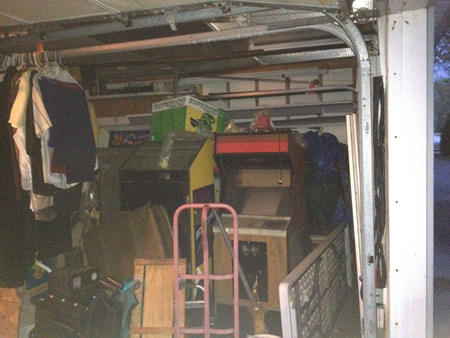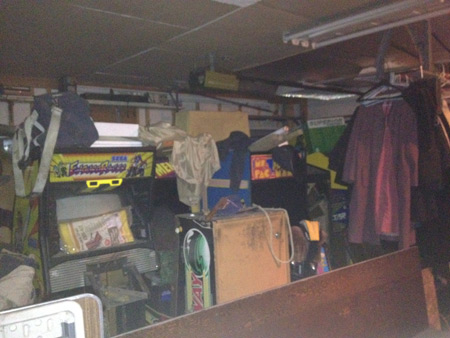 Plus there were about 4 jukeboxes, a dart machine, and parts scattered all over the place – boards, monitors, some artwork, all of the typically stuff you'd see if you had an arcade route.
The son in law, Jeff, let us know that the father used to have his route up in the Gary IN area, and moved down to Monticello – inferred retirement. Unfortunately, we could only look in at the games from the perimeter, and given the story, assumed most of them had been taken off route because they no longer worked. We could see some games popping out, but it was a significant risk to purchase as we really could see condition of anything, or if the few games we saw popping out were original or converted to something else.
Travis and I spoke for a brief moment and made a really nice offer for what we knew was there. We really wanted to honor the passing, and knew that we could restore some of these games to their original condition. At the very least, those arcade cabinets that were too far gone, we could source new owners and let them see some use again.
Fortunately, it was a good deal for Jeff and he accepted.
The sizeable arcade pickup would be on Sunday
Like most arcade plans and dealing with logistics and weather, if I had planned a trip to Indiana Beach, I probably would have had to cancel. I had a vehicle lined up with Chris, but then he had to have a major repair and was out of commission.
Then Sunday rolled around, and it was pouring rain in Indy. The timing was important for Jeff, as he was in town for a short period of time, and was trying to get many loose ends wrapped before he left.
The weather 'should' break for about 4-5 hours, just long enough for us to do the pickup and head back. So we made the 2 hour trip up in pouring rain, with a hope and a prayer.
Not every cabinet made the trip
We took my van, to supplement Travis, he truck, and an open bed trailer. This was the largest load I've ever purchased, beating out the 10 or so games I picked up in my very first arcade experience in Nashville in 2006.
As we dug into the garage, it was apparent we wouldn't have enough space. There were actually 16 cabinets. Loading up, it was apparent that two of the cabinets would not be salvageable – a generic that looked like it had been a gambling machine and the Endura Racer you see in photo 2 above. We also had to trash several monitor that had severe screen burn.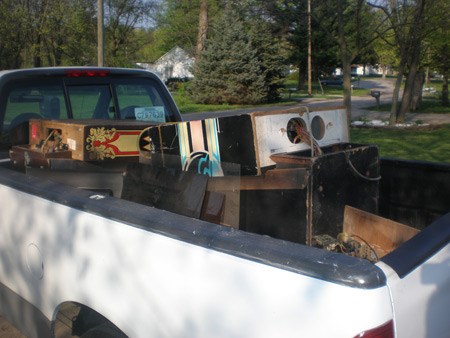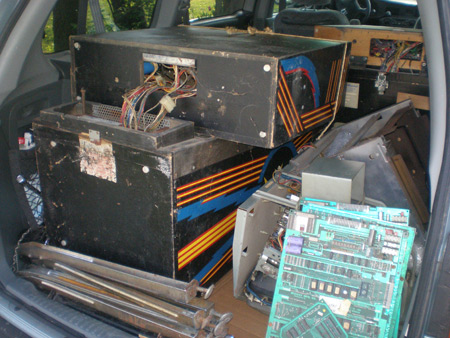 Everything got packed in, including two pinballs in my van! (who knew) and two pinballs in the back of the truck. For a ton more photos, visit my Monticello arcade game album on Google+. Here is a full list of the games:
Ms. Pac-man
Captain America & Avengers
Stargate Conversion – Street Fighter II
Sega Turbo
POW – Prisoner of War
Taito Conversion – X-Men
Dig Dig Conversion – Time Killers
Centipede Conversion – Street Fighter II
Fire! Pinball
Special Force Pinball
Cyclone Pinball
Firepower II Pinball
Capcom Bowling
Q*Bert Conversion – Arkanoid
Generic Cab (trashed)
Endura Racer (parted and trashed)
Plus we had other arcade parts:
4 boxes of miscellaneous stuff
6 monitors
30-40 pcbs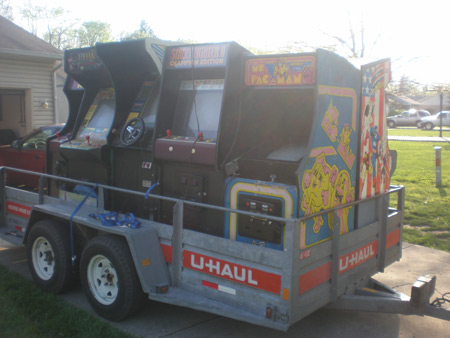 Monticello arcade purchase postlude
We were fortunate, the rain held off completely for the ride home. No problems at all, well, mostly. Bizarrely enough, we didn't strap down the Ms. Pac-man enough as the glass bezel was gone when we arrived. Just gone, not broken, no remnants, nothing – it must have just completely lifted and blown off. Fortunately it didn't hit anyone.
The gentleman might have operated his route in his local market, because nearly half of the machines worked when we got home. It's not unreasonable to see him placing some games in Logansport, Peru, Lafayette and even Kokomo.
My plans longterm? Well, I was really excited about a couple of things.
First – To add a mid 80's pin to my gameroom, so I have chosen to focus my efforts on the Cyclone. My mom has really been wanting for me to add a pinball, I think this will be a perfect edition for the gameroom in our new place. I thought at first it was missing the main board, but I believe I've found 2 in the loose pcbs.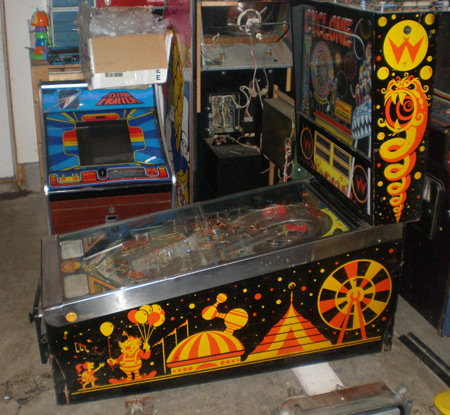 Also, a huge thing for me being a Mr. Do! fanatic – NOS back bezel / plexi artwork for original Universal cabinets. Three of them actually. Check out this photo.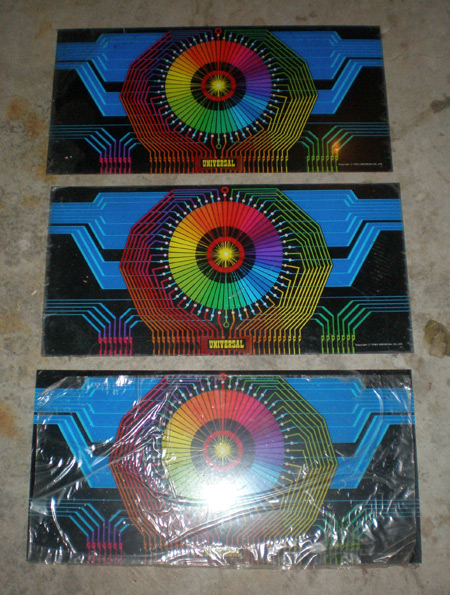 Really unique find, so pumped to add this to my collection of arcade artwork.
If there is something we picked up that is of particular interest to you, would love to get a machine into the hands of a collector who has been looking for a piece. Drop me a line. I also heard a number of arcade / jukebox collectors contacted Jeff from the Chicago area. There was one vintage Juke (my photos didn't turn out) that was particularly beautiful – thought about taking it myself. If you ended up picking up the Jukeboxes out of Monticello, drop me a note. I'd love to tie up that thread.
Thanks again to Jeff. We are really pumped to restore, or get the games into the hands of someone who will restore these games back to their original state. The best way to honor the past.
Here are some similar arcade posts
If you enjoyed this post, please consider to leave a comment or subscribe to the feed and get future articles delivered to your feed reader.