Have you ever gone out and purchased an entire collection from another collector? Last fall I got an email from a gentleman in Zionsville – proposing such an idea. He had been consistently attending US Amusement auctions in the early 90's and had amassed a great collection of classic games. I was excited, but cautious, one thing he told me caught my attention. The games were being stored in a trailer…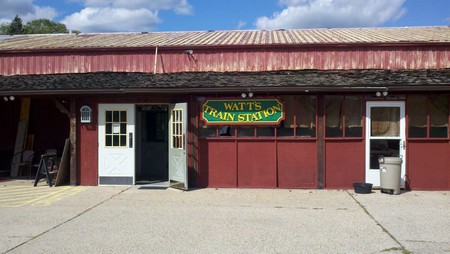 The story behind the 18 classic games
Dave at Watts Train Station shot me an email to see if I'd be interested to add to my collection. I was interested, and I am always on the lookout for something new – contact me if you have games for sale.
Watts is an interesting piece of Zionsville history in itself – in existence beginning in the 1960's, Watts is a mecca of Christmas and train collectibles in Indianapolis.
The owner, Dave, is a prolific Asteroids gamer – having won entrance to the Atari World Championship in 1981. In the 90's Dave was exposed to the arcade auctions at the Faigrounds here in Indianapolis. Dave recounted to me his astonishment that all of these great classic games could be purchased for $100 or less. Over the course of several years Dave amassed a collection of 18 games that he setup in Watts for customers to play.
Which games were at Watts / in the trailer?
What a great list of games, that arcade in Watts must have been amazing – I'd give anything to see photos. I was pumped at the prospect of adding some or all of these games permanently to the collection.
Tac Scan (Upright)
Asteroids (Cocktail)
Asteroids (DeluxeUpright)
Red Baron (Upright)
Frogger (Upright)
Discs of Tron (Upright)
Tron (Upright)
Omega Race (Upright)
Omega Race (Cockpit)
Space Duel Upright)
Black Widow (Upright)
Gravitar (Upright)
Space Fury (Upright)
Star Wars (Upright)
Frontline (Upright)
Two Tigers Upright)
Sea Wolf (Upright)
Star Castle (Upright)
With the list in hand Dave and I made arrangements via phone. I asked him – "When we get in the trailer and I go to haul these games out, will they fall apart?"
Dave said no, no way.
Arriving for Pickup
Time changes a lot of things, and as focus at Watts changed, the games were shuttered. For nearly 20 years, the games sat outside, in a trailer on the property. I had visions of a really nice trailer in a temperature controlled environment. Here is a glimpse where the games sat: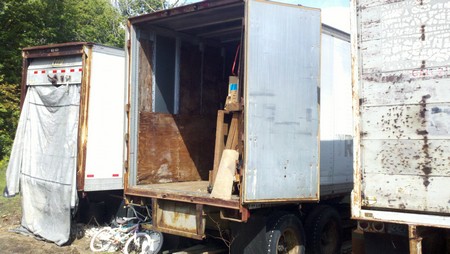 And the first look into the trailer containing the classics: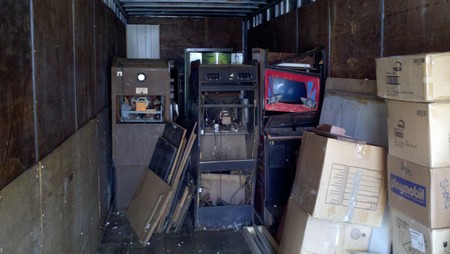 The trailer had leaks previously that had been fixed. Dave didn't know, and couldn't have known without getting in back that the welding job had rusted out, and that the games had been exposed to many years of contained moisture.
So sad. So many classic games, and the condition unknown but did not appear good.
Collection expansion turned into removal mission
Dave was gracious, and sincerely surprised that the games were not in the condition he expected. We worked out a fair agreement with this unfortunate discovery, and kept loading up the Penske.
Thirty minutes passed, here is a view into the trailer. The game on the end – the Star Wars! Possibly the most disappointing game of all, was sitting right under the leak, the bottom of the cabinet stuck to the trailer when we tried to remove it.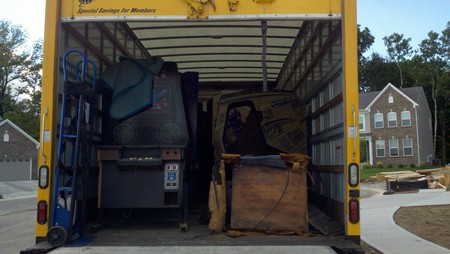 There is a special place in my heart for these games, especially some of the classic like Discs of Tron, Tac Scan, etc. Knowing I was in for an unknown, but certainly TON of work – I still helped haul them off the property. At the least, I was happy to try to get the valuable parts into other collectors hands – sacrifice one for another.
Photos of the games
Reality started to hit. We had moved in just two months earlier, and I was out of space for storage for the games. Some of the games worsened on the ride home, 90% of them would need to be parted out.
I had a 'sidewalk' sale here in Indianapolis – I didn't sell any games but I did get to meet a lot of my neighbors 🙂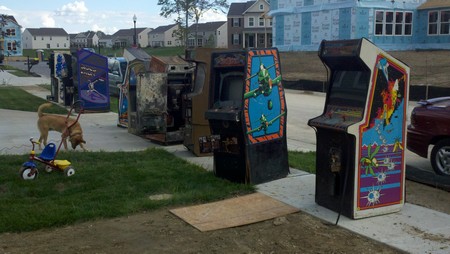 Here is a latter shot of my driveway as I worked through parting out each game.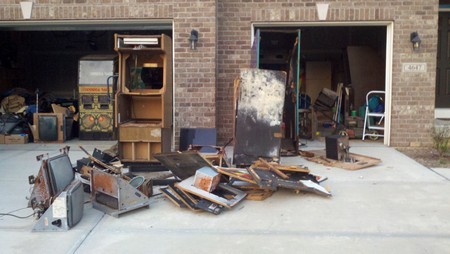 Here are some shots of the games. Check out the Frontline in particular, I've never seen anything like that. Tac Scan and Star Wars were a close second. The Space Duel ended up falling over and shattering the 6100 🙁
Needless to say, I got a lot of use out of my protective equipment.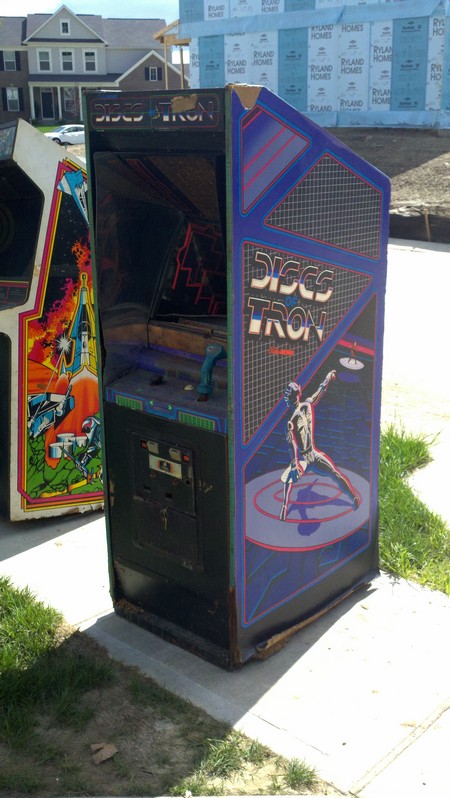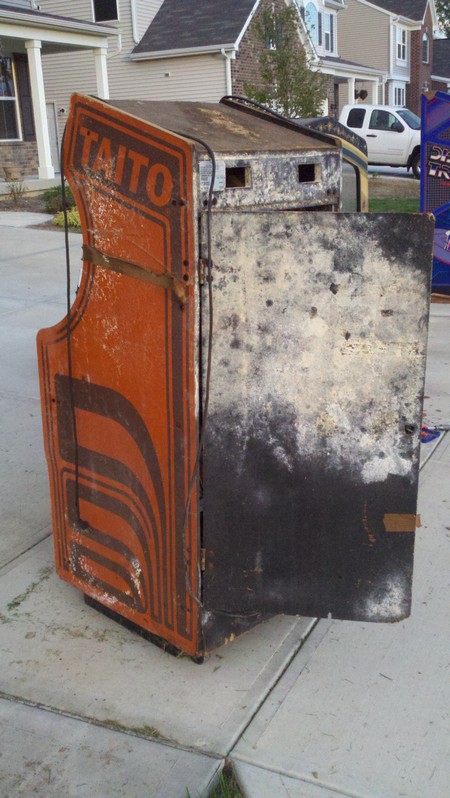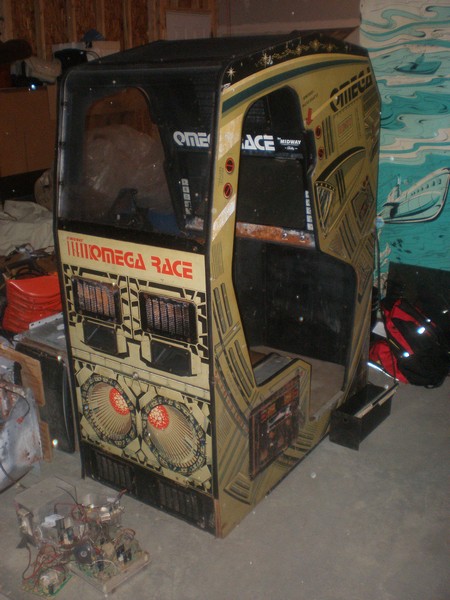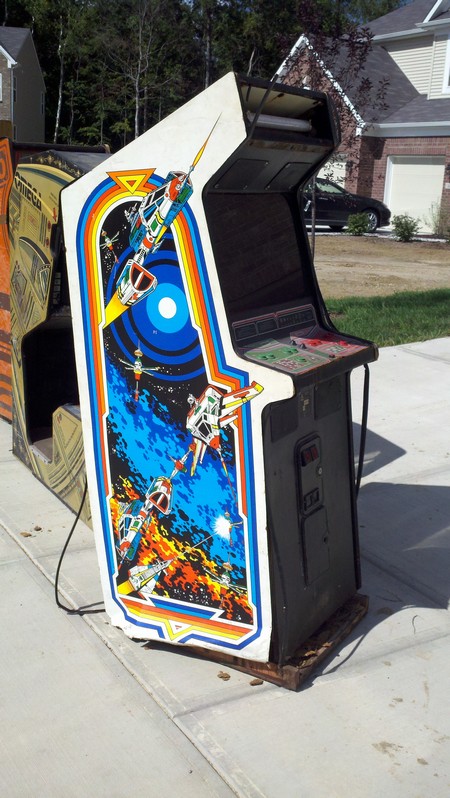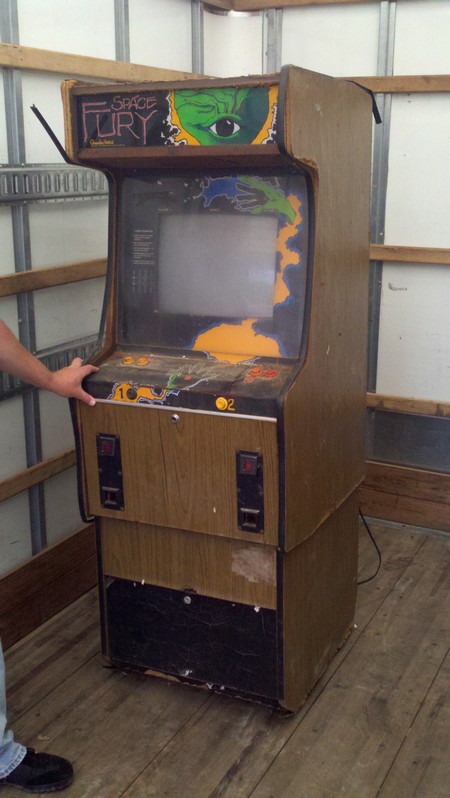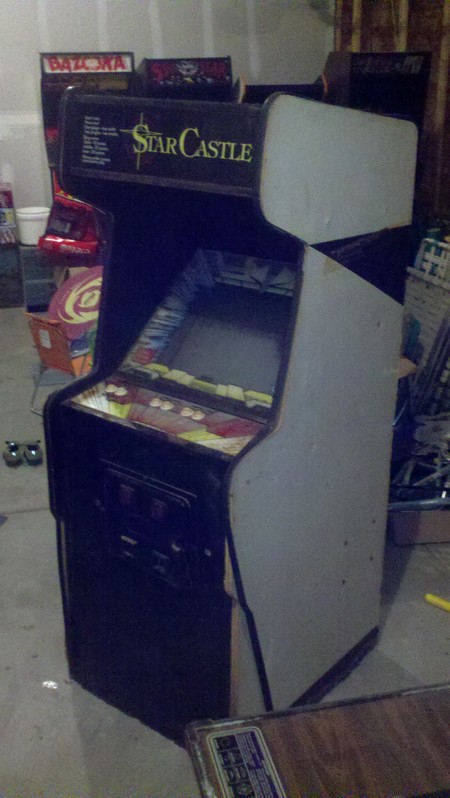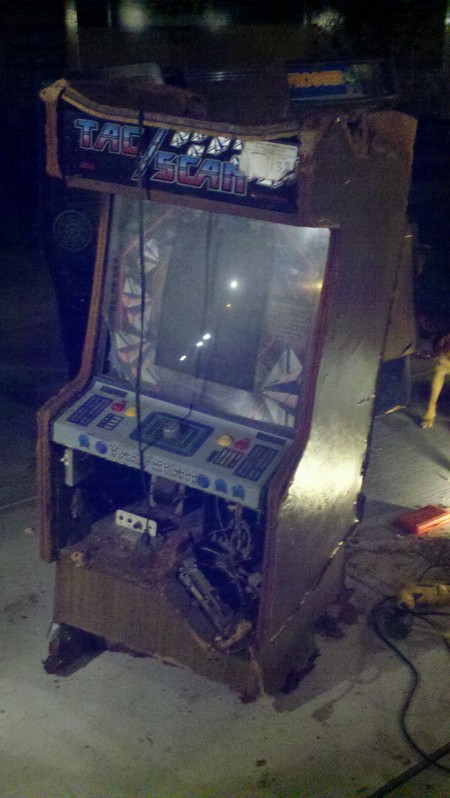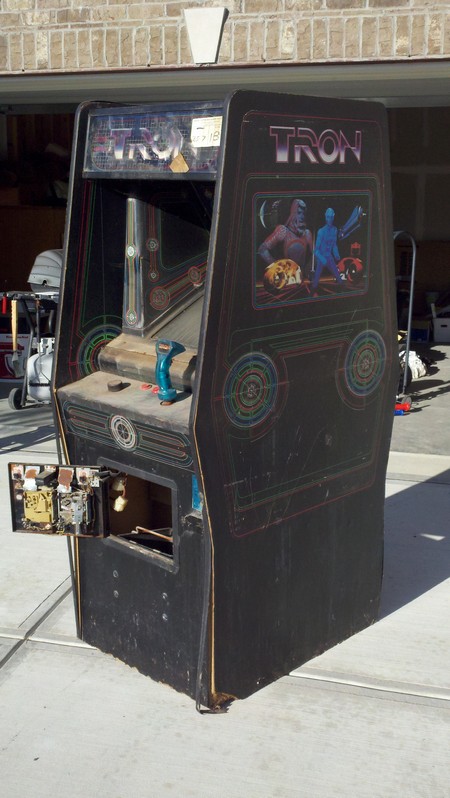 Of the entire list, the following are the only games that I was able to save and ended up finding new homes:
Asteroids Cocktail
Black Widow
Omega Race Cockpit
Sea Wolf
Another arcade 'adventure' closed
Parting out that many games was a ton of hard work in hot weather. I'd do it again now, given I have space in the garage, but at the time I did think I was crazy.
If you have a small lot of arcade equipment – They could be arcade games, but pinball, jukeboxes, etc. that you need cleaned out from your property or warehouse please contact me. I'd be happy to work something out, and have traveled well outside of Indiana to work a deal.
Here are some similar arcade posts
If you enjoyed this post, please consider to leave a comment or subscribe to the feed and get future articles delivered to your feed reader.