If you have never taken the time to browse ZZZaccaria.com, I would set aside 30 minutes and immerse yourself in the world of Italian arcade games. The cabinets are beautiful – vibrant primary colors, intricate designs, curved plexi marquees – exquisite. Sadly, adding a Zaccaria section of your gameroom here in the states may be tad difficult. Fortunately, at least one of the Zaccaria games was imported to US and distributed in the 80's – Quasar!

My fortune – Zaccaria Quasar
In February 2012, a friend in Louisville contacted me and said "I think I have something you want". He sent me a photo, I could hardly believe my eyes.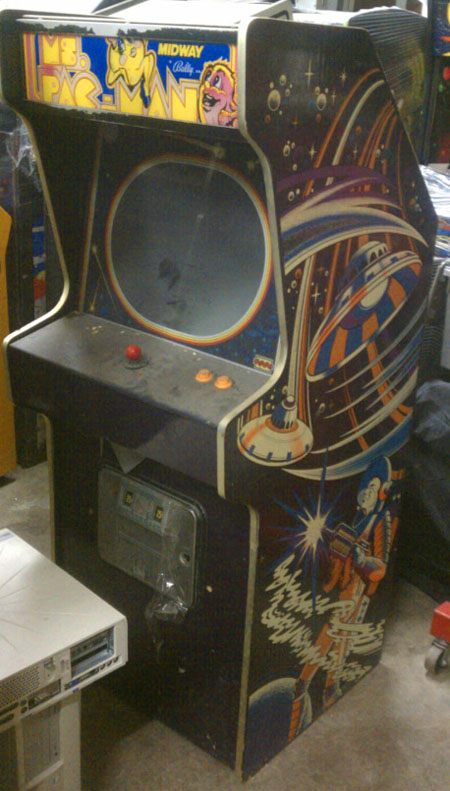 Partially because the game had been converted to a Ms. Pac-man – ouch!
We worked out a deal, which then led me to spend the next year tracking down parts. My quest for Quasar parts and information took me all over the globe, special thanks going out to the following individuals:
Brent G. (KY) – Quasar Cabinet
Edward L. & Chris (KY+TN) – Full Quasar Boardset (Including sound board)
Paul S. (UK) – Second sound board
Thorsten T. (DE) – NOS Marquee
Steve S. (GA) – Boardset
Paul S. (WA) – Photos of the wiring
And one negative shout-out to this joker on eBay:
Vinny (eBay Profile – wfavinnyvideo2gx1) – Vinny explicitly lied in his eBay auction, and sold me a Quasar marquee for a large sum that had been 'keyed' on the front, then he disputed my claim. DO NOT buy from this guy, liar liar liar.
In July of 2012, we moved – and everything has felt unsettled since then. Quasar took a back seat, and sat comfortably but untouched in my basement.
Quasar on East Coast
Fast forward to March 2013. A gentleman out east contacted me about a complete Quasar he had for sale. His family had owned the game for nearly 20 years, and just recently stopped working. While my "Ms. Pac" Quasar was now complete, the wiring for the boardset had been hacked and was going to take some work to restore.
I was fortunate, and I was able to make a fair offer to the gentleman out east to purchase his Quasar. The distance was prohibitive – The perfect time to actually give uShip a shot for the first time. Seen some wacky wacky stuff on Shipping Wars, tried to discount that as fakality TV.
My first experience on uShip was solid, about what I expected but went smoothly and my new Quasar arrived last week! Here it is, briefly wiped down and with my NOS marquee installed: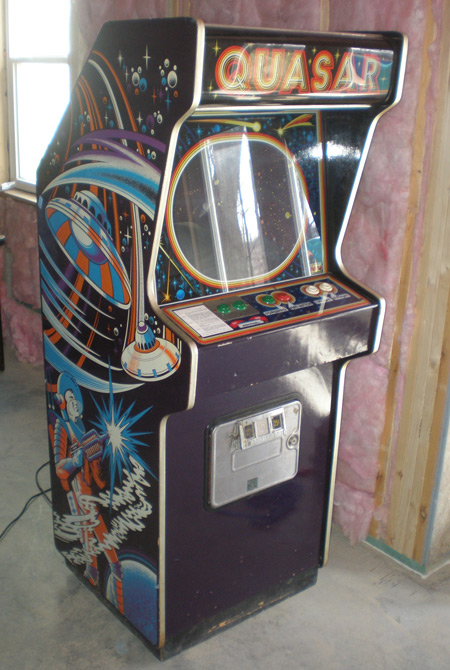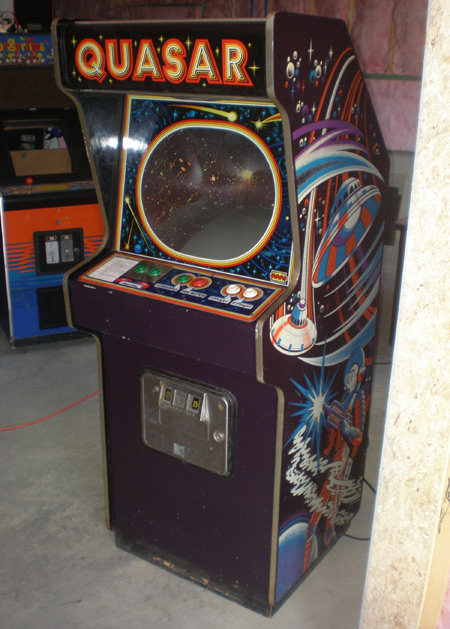 Closing Notes – Zaccaria Games
Hunting down parts for a Quasar over the last year hasn't been cheap. Plus, paying for and shipping the Quasar some 500+ miles to Indianapolis also was costly. That said, I was happy to pay to add it to my collection and would like to continue to expand.
If you have any Zaccaria games, please contact me. I would be willing to ship from anywhere in the US if you have a cabinet you are looking to sell. These following Zaccaria games are the ones I'd like to look at buying next:
Puck-Man
Scramble
Astro Wars
Scorpion
Super Cobra
Crazy Kong
Frogger
Here is a photo of a Scramble via the UKVAC forums…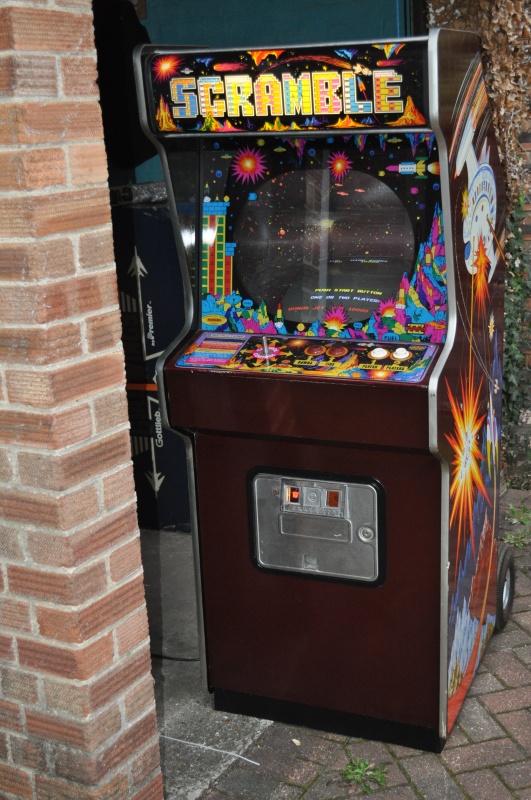 Please contact me if you have one or many of these Zaccaria cabinets for sale.
Here are some similar arcade posts
If you enjoyed this post, please consider to leave a comment or subscribe to the feed and get future articles delivered to your feed reader.