Videos
Stumbled across this video tonight with Owen Rubin, creator of Major Havoc and a number of other famous Atari games, talking about 'Kermit' the electronic pet that was way ahead of its time. This video really doesn't have any classic arcade information in it other than Owen's general connection arcade lore, but there were some references that came out during the live chat with Owen on Coinopspace about 'Kermit' that I had to at least watch a little bit. (more…)
---
Ever experienced a 'warehouse' raid? This is the term arcade game collectors give to the event where you find an old operator's warehouse full of classic games waiting to be purchased in a bulk buy. This video of Jon Exidy finding a warehouse of games is one of the better ones with so many popular games – Q*Bert, Defender, Star Wars, every popular game is in this warehouse, it is every collector's dream. (more…)
---
Unlike most classic arcade collectors, I don't have fond childhood memories of visiting arcades. I have fragments of memories of playing games in Chucky Cheese and the random on location video game at the local store, but I don't know that I ever visited a full fledged arcade.
Funspot is one of the few functioning arcades left in the United States, and some claim it is the world's largest arcade of classic video games. Located in Weirs Beach, NH, I doubt I will ever take a vacation that far north and east, so watching the walk-through videos of this arcade are exciting on two levels.
The videos of Funspot arcade are extensive, at over 9 minutes each. In the few minutes I watched I didn't see many "classic" arcade games by definition, but I am sure the classics are on the third level of the building, and I didn't get a chance to watch that far. Whether you appreciate the earlier arcade games, the mid 90's games, or today's complex brand of interactive entertainment, these videos of Funspot should be enjoyable to all.
---
Check out this photo of the Pac-man themed Christmas tree in Madrid Spain. All of the big blogs are reporting on it.
Here is the video of the classic arcade tree in action. You can see that it is loaded up with some festival themed Pac-man imagry, but it has all of Pac-man's old enemies, and they even move a little bit.
Here's the static image of the tree.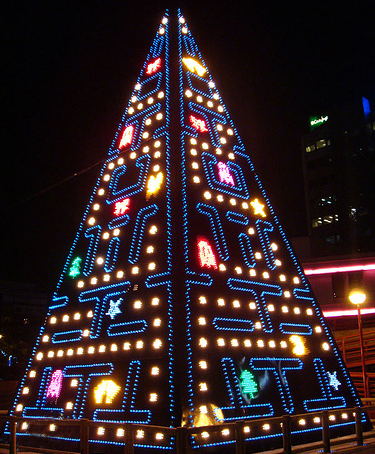 Lots of users commented on how cool it would be to be able to play the Pac-man tree. Possibly I am sure, but complicated. It is awesome to see how much of a global force Pac-man is and how much that character line is recognized and appreciated. Wouldn't it be cool if these guys in Madrid who made the Pac-man tree took some tips from my hometown lighting expert with the Trans Siberian Orchestra guy!
Some music a little more 8-Bit themed would be in order for the Pac-man tree, just as long as it didn't keep repeating:)
---
Cop out tonight, I have too much to do and no time.
Saw this retro arcade video link posted in the Google Coin-Op groups. It's a commercial for Chardon jeans, smacking of true 80's design, cool at the very least for the girl that is rollerskating like life couldn't get any more simple. The jean commercial is set in what looks like an arcade, I was not old enough at the time to know if this is a typical looking arcade or not. Oh yeah, and Larry Bird is also in the commercial.
The game of choice in the commercial is Stern's Berzerk, and it looks as though the marquee doesn't have any flaking just yet:)
---
The World's Largest Arcade Machine, verified supposedly by the Guinness Book of World Records, was a video I came across on the Klov forums tonight.
More ludicrous than anything else, I think that building the largest coin-operated machine in theory is pretty cool, but in reality it just looks stupid. You have to stand on a stool to play it, with hand sized buttons and a screen so large your retnas are fried before you can say "Sammy Davis Junior only got one eye."
The World's Largest Arcade Machine measures 14 feet tall, has a 75 inch screen, weighs 1300 pounds and I think in the video they say it's 9 feet wide. What a colossal waste of space. They have a tiny little motherboard in it that plays 150 games and the style arcade game makes most of us collectors, with a taste for true art, die a little inside. The World's Largest Arcade Machine is fashioned after the popular Mame machines of today, with the artless sides, and the generic lightning bolt, fire storm, or other combination of black veneer details that makes us think, "Big black waste of space anyone?"
It's like all of the entertainment value of a season of American Idol, 1 minute stretched out to make a year of shows and you wonder where the time went. My favorite part was the real "Coins", and the fact that although the largest game ever takes up more space than your guest room, the machine isn't capable of freeplay.
---