News

Considered by most to be the father of comics, Wil Eisner invented the graphic novel, and has been the most influential artist to the medium of visual storytelling with only Stan Lee appropriate to mention in the same breath.
Wil Eisner gave a job to Jack Kirby and a number of other great artists, and created the Spirit, which ran in circulation of up to five million for over 11 years.
Wil's work was most influential to me via his "Comics and Sequential Art" book, which really shows how an artist that lives and breathes the medium does not see it's limitations but always looks for new visually exciting ways to tell a story. I still will pick that up and read it from time to time.
Wil passed away from complications of a quadruple heart bypass surgery. He was 87.
---

This is another article that I was late on.
In early January of this year, Dreamwave Productions closed it's doors for operation. There isn't a lot to be had on this subject, other than the official posting, but if I would have to guess I would say that licensing killed them.
Co-Founded by Pat Lee, I can still remember just over four years ago when he did the pin-up of the Transformers in Wizard magazine. How that really grabbed everyone. Including Hasbro. He won the licensing rights, and away they went, taking the industry by storm. Topping the sales charts. Everyone wanted Transformers books in that nostalgia craze. But that has since subsided. The books were never very well written, and that is why good art never replaced the story, especially when Pat Lee stop drawing after the first couple of series. In such a short time he because my definitive artist for them, and I didn't care to see anyone else draw the books.
Too many are going down. Who will be the next great casuality?
---
Check out the side column for more.
On a side note, December 8th is my new day to look forward. The Batman Danger Girl crossover is coming out.
The art by Lenil Yu looks fantastic, but J. Scott Campbell is doing a cover for his creation as well, and who knows, we may finally get to see him draw Batman.
I told Christine this weekend I could die a happy man if that happened. I love Batman, and every creator I like has done his rendition except for J. Scott. He just about got his chance about 10 years ago when Gen 13 was a hit and he was on it. There was talk and I think prelim art for a Batman crossover, but that was before Wildstorm was part of DC and I am sure politics for love of their respective characters killed the idea.
---
Well, I am back. The Ohio Comic Con was a total blast, much due to the company I was with, Christine Mulligan.
The plan, like I posted here, was to leave at 2 a.m. Saturday and get to Columbus OH by 5 a.m. to get in line early enough to get a sketch from Adam Hughes. Christine wanted to meet the legendary John Byrne, so she was cool with that. On Friday night I headed off to sleep at 8 p.m. trying to get a reasonable night's rest. Staying up until 2 a.m. usually squashed that idea. I rolled around in bed until about 9:30, got up, watched some TV hoping to fall asleep, but didn't and long and the short of the story was that we overslept as Christine was left outside. Bless her soul, she was understanding, and we were on the road at 2:30 a.m.
If you aren't familiar with Adam's work, here is his most recent cover on Tomb Raider 47.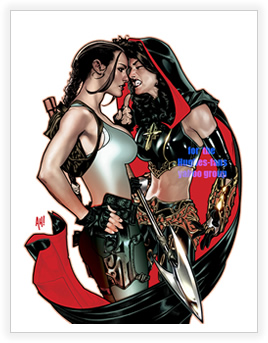 We got there at 5:30 with what looked like no one in sight. However, there was one guy in line already named Jason. We hung out until 6:30 playing cards until another guy came down, David. Then there was really just us four until 7:30 – 8 a.m. and then the place got crazy, even more so then last year. It was uncomfortable at best. Here is a photo before the third line in the middle began and all of the dealers with their huge carts and everything started pushing through the crowds. That is David with
his back to us.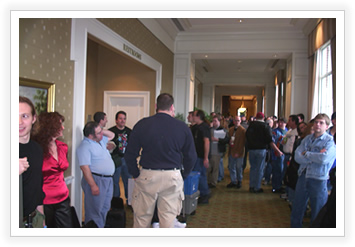 When they finally let in the advance tickets holders, we ran for Adam's table. There were about 8-10 exhibitors in line but I managed to get up to sixth in line, and Jason was 12th. I wish everyone was honest, and I don't know that anyone there wasn't so it was hard to be that far back after getting up so far in line and arriving so early. I talked to Allison (Adam's girlfriend and manager) and Adam about making a switch if necessary to make sure Jason got his sketch since he truly was before me and she appreciated the honesty.
Christine and I then met Jeff Smith from Bone, who was really awesomely nice, doing free sketches for these two children who were in front of Christine that were big fans of his wildly popular self-published book "Bone". This is the best picture I got of them.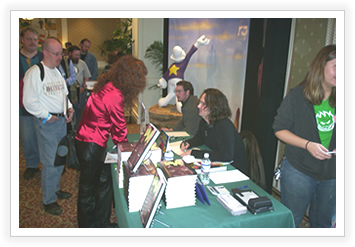 Then we kind of wandered around and did different things, checking out other artwork and doing a little bit of shopping. At 1 p.m. we went to the cover artist panel with Adam Hughes, Greg Horn, Talent Caldwell, and Skottie Young (A phenomenal cast). I asked a good amount of questions about programs for art creation and the politics of editors and getting your first work. Here is the best photo, my crappy little 2.1 MP camera.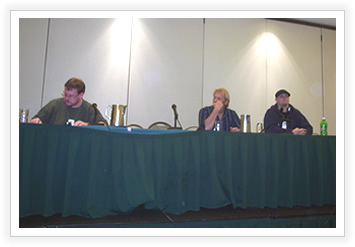 We periodically checked in on Adam, and then decided to get sketches from Skottie Young since his list was open for Sunday and we were going to be around. We also talked with Stuart Sayger who we found out Does "Shiver in the Dark" and is a local Indy artist. He was really cool, talented and great to talk to about his experiences in self publishing as well.
We got invited out to dinner after Saturday's show with our new friend David and the people we met through him including Andy, (girl) Dan, and Kevin and what ended up being a table of 12 people. These guys were awesome and actually go to a ton of shows, the pinnacle being Dragon Con in Atlanta.
We drove up to Mansfield to stay with a friend for the night, had some wine and got relaxed and had a good night's rest, and for me, it was after being up almost 24 hours and at my old age of 25, that isn't as easy as it used to be.
On Sunday when we got back into town Skottie Young had our sketches done. (See photo in Photo Diary section). Adam was drawing for A.C.T.O.R which is a benefit for older artists and he had gotten through a couple more sketches that morning.
We did some more shopping, I traded for some new books and we hung, relaxed and read for awhile. Then on my way back in I traded for nearly $90 of books since the show was getting near the end, dealers were more ready to deal. It was about 3:40.
We got to Adam's table and he started my sketch. He finished up at about 4:30. He is my beauty. I am really happy with it, I know that a lot of comic geeks and most macho men out there will laugh their tush off, but here is my "Baby one more time" Britney in the classic school girl outfit. I think she has occasional catchy music mixed in with a bunch of crap. But you gotta give her credit for selling it and she is truly an "entertainer". I wanted to give Adam something unusually instead of the myriad of Tomb Raiders and Wonder Women that are out there that he draws every day. The inscription actually says "First and Last Sketch of Britney Spears. 1 of 1. AH!"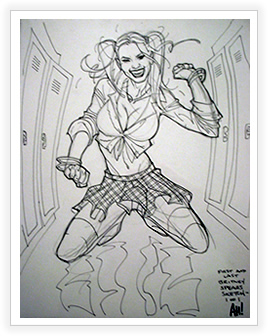 So only two years of trying and I was successful, but I definitely go for the gusto and learned from my mistakes so I could get this before I lost interest and without paying X amount of dollars over many years trying to get it.
So that was it for the weekend except for the trip home which we made immediately after that. I think we'll go next year, Christine was a blast to hang with and she had a great time at her first convention.
As a final note, I apologize to Christine. She was about to buy this rockin piece of original art. But I opened my big fat mouth, voiced an un warranted opinion, and kind of ruined it for her and made her sad. So, as I said earlier today, I am sorry. I try my best not to do that, and it never fails that I always mess something up. Hopefully we can still do this next year.
---
I read online last night that Disney of all people bought the publishing rights to all of Crossgen's characters, including all of their characters that are in development for movie treatments.
Crossgen busted out of the gates five years ago with a fresh approach, a slew of books, and a solid base of creators looking to take on the big guns. They expanded quickly over the coming years and attracted more and more talent. But the books were fantasy in nature all based around this "sigil" symbol that gave it's wearers unique powers. You know, swords and swashbuckling types of books, which really isn't what I was into so I probably didn't help their cause much. I did read Sojurn for awhile, which is where Greg Land really blossomed into the hot talent he is today.
But about a year ago the publisher quietly stop putting out books and we started to see their creators pop up back at DC and Marvel. Word later was that they had run out of money and were bankrupt.
So, farewell to them. Another sad story on the war ridden roads of the comic industry. Maybe someday we'll see another publisher make it for an extended period of time, but for now I would say, probably not.
---
The story continues. I give this issue a 3.5 of 5 stars. The art still isn't all that great, minus the Michael Turner covers, but the thing with great stories is that the art can sometimes take a back seat for necessity. You would prefer the stories to come out on a regular monthly basis then to be delayed for a long time because of great art. Those long pauses can kill a good story.
So we start off seeing some iconic imagery with Robin kneeling over his dead father which carries over to visions of Bruce Wayne over his dead father. Then more discoveries are made about the murders. Flash keeps pressing Green Arrow for answers about who else he and the other JLA members had brainwashed with the help of Zatanna. During the fight in the last issue with Deathstroke, Flash had seen visions from Dr. Light of the members that were present when they had during the brainwashing.
Green Arrow had only mentioned seven, but in the vision Batman was there. He is reluctant to tell Flash what happened but when he threatens to go off and talk to Batman, GA tells him that there was a second vote that night on what to do. The crap hits the fan. The other member had voted to take Batman's memories too.
He had taken care of Sue Dibney but he came back in the middle of the brainwashing and went byserko, obviously, it's Batman. They voted to take his memory of the event, knowing it was the only solution from breaking up the league permanently.
At the end, we are left with a cliffhanger. During Sue Dibney's autopsy, it was found that she was already dead before she was burned horribly on one side of her body. Well, as they look closer it seems she died of a blockage of blood to her brain. That is why none of the league members could figure out how someone broke the defenses, the intruder was but the size of a molecule. And that man was small enough to stand on Sue's brain and block the bloodstream.
That man is Captain Atom, and we have to wait until next month to find out what happens.
---
I ordered my tickets on Friday and am all set to go to the Mid Ohio Con for a second year to see if I can get a sketch from one of my favorite artists, Adam Hughes.
My plan of attack right now is twofold, to save money, but to get there early enough to be very close to the beginning of the line. Those who order advance tickets online get in a half hour earlier then the rest of the attendees, so that is a nice benefit. But I was naive last year in thinking that that would be enough. I was only a handful of people back from the front of the line, but still I was over 20th down his sketch list which anything over 12 is usually not going to get one.
So I will be traveling probably at about 2 am over to Columbus Ohio to try to get in line at about 5-6 am. Then I should be there early enough to get a great spot in line and a chance at a sketch.
I am also pumped because I have found someone down here that is also into comics just about as much as me, and she really wanted to go. Christine Mulligan will be my partner in our day of what will most likely be adventure and strung out fanboys. But it will be cool to finally have someone to talk to about this as we walk around.
---