Sports News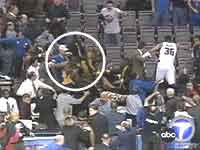 I was riding along on the game to Purdue yesterday and this was the talk of everyone in the car. I had not heard or seen anything about this, but got an earful from two huge Pacers fans.
Now, I only saw the replays, but this is what I saw. I saw Ben Wallace push Ron Artest close to his face, probably in the neck, in response to a hard foul to the bucket. The push was frightening, and Ben had intentions of seriously injuring Artest. The led to the benches clearing, and punches being thrown.
We have seen this before, it isn't out of the ordinary which is sad, but true. So fighting I can handle.
But as things progress, Artest gets a beer tossed on him. So he and another Pacer Stephen Jackson, jumps into the stands and start whaling on some obnoxious Detroit fans. Actually, these fans were total jerks to put it lightly. They should have criminal charges pressed against them. Throwing chairs, beer, anything in sight at the Pacer players.
Having said that.
Ron Artest should not play basketball ever again. He was the biggest (expletive) of everyone. I don't care what some fan says to you. I know there is a line between self defense and walking away. Ron is a basketball player. But because he is out of control and a hothead, he jumps into the stands and starts beating on some fans. He isn't even human. There isn't a reason. Plain and simple.
Some even say well what about the fan on the floor charging Artest after he cools down. I just about guarantee that that fan isn't on the floor if Artest isn't in the stands. If some jerk basketball player is using his huge size to beat up on fans, I might go out on the floor and defend myself too.
I hope they put make an example of those two Pacers players. Suspend Wallace for a long time, he is hugely responsible and everyone else involved.
Artest. I wish I could say much more, but I don't want to offend people. Just know that the worst possibly thing you can think of a person, times that by ten and that is how I feel about this "Professional" athlete
---