Donkey Kong Arcade Game Information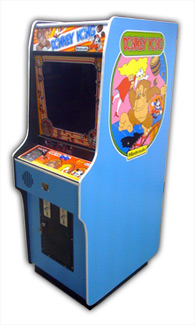 Nintendo's arcade game Donkey Kong is one of the most popular classic games of all time. The movie King of Kong pushed that cult status over the top and this video game in particular has seen a resurgence in popularity – particularly among players who want a change to rank at Twin Galaxies on the high score board.
Donkey Kong put Nintendo on the map. The pairing of Mario (Jumpman) and the ape (Donkey Kong) was a recipe for success and spawned two of Nintendo's most beloved characters.
Riding on Mario's popularity two years later Nintendo gave him his own game when they released Mario Bros. But everyone remembers Donkey Kong as one of the first platform games with a great story and tremendous return gameplay.
What should I know about owning a classic Donkey Kong game?
This page is dedicated to folks who either own a Donkey Kong arcade game, or are looking to purchase one for their home arcade. Starting without any knowledge can be daunting. How much should I pay for the machine? How much will it cost to keep the game running? Who can I call to service the arcade game if it breaks? Can I fix my Donkey Kong myself?
There is no one absolute answer for each question. Owning a Donkey Kong arcade game is all about your personal situation, aptitudes and long term needs for keeping the game in your house. What you need is to find more information to expand your education, and this page should help with that.
Donkey Kong Arcade Game – Repair and Restoration Resources
Below you will find a list of resources that range from helping you acquire a Donkey Kong video game machine down to monitor repair and power supply swapping. If you have additional questions that these resources do not answer, just Contact Me and I should be able to get an article online that fits your needs.
Documents
Artwork
Cabinet Restoration
Play Donkey Kong
Most flash or java versions you find online for Donkey Kong will only let you play a level or two. The best way to play Donkey Kong is to use Mame. ROMs for Donkey Kong are readily available from a couple of popular sites online, and then there are a number of different free Mame emulators you can download, varying in level of simplicity and features.
History of Donkey Kong
Just in case you want to know more about the game you are about to restore, here are some great resources talking about the making of one of Nintendo's most popular characters of all time.
Fun Donkey Kong Stuff
If you're a DK fan, you'll enjoy anything related to the game. From artwork and merchandise to monster trucks, Kong has permeated our culture.