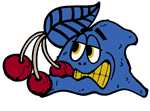 The Glob is done. Sounds like Rick is going to let Rich do the color matching either by sample or by photo (I guess he has an uncanny talent for accurately guessing pantone by looking at a photo, I have a hard time understanding how that is even possible…)
I need to find already made measurements (ideal) or take my own and mock up the dimensions of the kickplate of a Pac-man machine. Then I can start laying down the characters, making sure the colors are consistent, and compose some sort of design.
---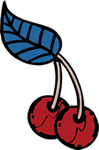 The cherries are done, now all that is left is The Glob. I got a great photo now from Rich to work with, so I can start at any point. I don't think I'll probably use all the characters, but better to have them then need them and not have them. He mentioned possibly doing stencils, which would mean the color matching from my end wouldn't be as big of a deal, but I would need to do another process as the The Glob kickplate is designed, doing the separations for it.
---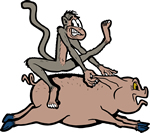 Got a chance to finish up the final touches on the monkey riding the pig today, and the rabbit was a two day trace of probably less than a hour total. Of course there will need to be some major color matching done for the monkey riding the pig, it seems to be way off. That is what sampling from the photo gets you. Feels good to have all of the animals traced (I think), and be moving onto The Glob himself.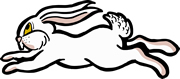 I think I will need some better photos to work from of The Glob, but he isn't that complex so I wouldn't be surprised if I could get him cranked out pretty quick and be onto making the custom kickplate artwork, the fun part.
---
I knew when the truck left Pittsburgh a couple of days ago that my time had finally come, but I just wasn't sure when.
I got ahold of Troy yesterday, and he said he was in Columbus, and thought he would be my way in the next couple of days. It sounded like he had to swing down to Cincinnati first, and since Mudmantim wasn't going to be free until the weekend, would stop by my place next.
Well, he called tonight and said that he should be at my place by around noon or 1. I am really pumped, the timing is just about perfect. I have the day off tomorrow, and in the next couple of days I should be moving out two more games, so I should have the room to move things around and rearrange them as needed.
---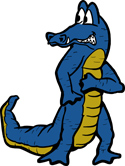 Got more photos last night in email last night from Richard of the Alligator tail, so I was able to finish up that piece of vector artwork.
Next: Onto the crazy monkey riding the pig.
---