Somewhere in the middle of studying this week, I managed to take some quick dimensions for my Pac-man kickplate. These are the dimensions I got, and will work from when designing the custom "Glob" kickplate with all of the character artwork I vectorized.

~Note / Update: The measurements I took for the bottom portion range anywhere from 18 & 5/16″ to 18 & 8/16″. I actually measured 18.375, but the total top to bottom measurement I took didn't agree with the total added measurement of all of the objects.
For this case, I think that fraction of an inch won't make a difference, I won't put important artwork at the bottom. But for your own uses you might want to keep that in mind, especially if you would build your own Midway cab.
---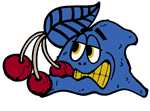 The Glob is done. Sounds like Rick is going to let Rich do the color matching either by sample or by photo (I guess he has an uncanny talent for accurately guessing pantone by looking at a photo, I have a hard time understanding how that is even possible…)
I need to find already made measurements (ideal) or take my own and mock up the dimensions of the kickplate of a Pac-man machine. Then I can start laying down the characters, making sure the colors are consistent, and compose some sort of design.
---
I have gotten a little motivation back, and took a little time to investigate this further.
I had been going back and forth with Bob Roberts on this chip, and without even looking at my board I was able to kind of figure out with his help that this chip was plug in play, which meant it should be socketed and no soldering necessary. Plus, since it was PnP, that meant I didn't have to burn anything to it either. He said the chips are very sensitive and this is fairly common.
In the Dig Dug manuals, it says that a OL and/or OH error are due to a bad RAM. It just depends on what version of the Dig Dug PCB you have to find the location on the board. If you have Revision A, the position is 9M, and if you have Revision B of the PCB, then it is position 4K.
I thought for sure these positions would be printed in the manual, but they weren't. I pulled the board out and did a comparison of component side elements on the board to the two drawings in the manuals. I have a Revision B Dig Dug PCB, so that meant my bad RAM was at 4k.
Here are some photos of the PCB. I circled the 4k labeling, it might be hard to see. Also a photo of the bent RAM and the RAM in the socket.
I took a look, and it was obvious. There my RAM set, with the front leg bent and barely in the socket. I was floored, how had it worked up until now? It might be as simple as taking that chip out, bending the leg back, and the game might work. Well, I did just that, and it didn't work. So I am guessing that after so much time of it being almost bad corrupted the chip.
I am checking with Bob to see if he has that chip. The number on the top of the Chip says JAPAN 2E1 HM6116P-3. Would like to get a larger order of stuff to bring down the total cost for the one part, but if it means getting the game sold, I may not wait.
---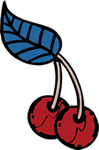 The cherries are done, now all that is left is The Glob. I got a great photo now from Rich to work with, so I can start at any point. I don't think I'll probably use all the characters, but better to have them then need them and not have them. He mentioned possibly doing stencils, which would mean the color matching from my end wouldn't be as big of a deal, but I would need to do another process as the The Glob kickplate is designed, doing the separations for it.
---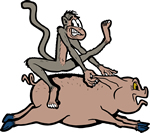 Got a chance to finish up the final touches on the monkey riding the pig today, and the rabbit was a two day trace of probably less than a hour total. Of course there will need to be some major color matching done for the monkey riding the pig, it seems to be way off. That is what sampling from the photo gets you. Feels good to have all of the animals traced (I think), and be moving onto The Glob himself.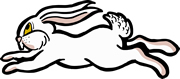 I think I will need some better photos to work from of The Glob, but he isn't that complex so I wouldn't be surprised if I could get him cranked out pretty quick and be onto making the custom kickplate artwork, the fun part.
---
I was up early, but I got a good amount of sleep. The air mattress held air last night, so I got up around 8:30-9. Tim and Mark were already up. Sarah slept for a little while longer.
I got on the laptop and figured out how to get on their internet. I sent out some emails and Mark and I talked about baseball some. Last night both the Colorado Rockies and Arizona Diamondbacks finished up their sweeps of the Phillies and Cubs respectively. Pretty impressive actually, the Rockies have now won 17 of 18 games. (more…)
---
Today at lunch I went home to meet the ebay winner from last week. The auction ended on Thursday, about 18 people were watching it, but it didn't turn into a bidding war, I had only two bids.
But the guy out of Chicago who won it really wanted it for awhile, so I was just glad someone won it who really loves the game. I love it too, but I don't need a dedicated cabinet for it, at least not now. My name is signed on the inside in permanent marker, so someday if I decide I want it back when I have my mansion, I can hunt it down. But I imagine even then I won't be able to beat it:)
Here are some photos of it getting loaded up.
---