The best arcade cabinets were from the late 70's to very early 80's across the board. From Atari to Midway, to Universal and Sega there are a ton of cabinets that were decked out head to toe in full artwork, colors blazing. Taito was also in the mix, possibly on a smaller scale as the majority of the games were developed in Japan and imported to the US. This week, I managed to snag a classic Taito that I first fell in love with 4 years ago, funny enough, through a warehouse raid that took place in Belgium.

---
Last August (2012) I got an email from an individual in Chicago looking to sell three Pac-man arcade games. I love Pac-man, I have two Pac family games in my collection currently. The list was a Ms. Pac-man cocktail, a Jr. Pac-man conversion and a Baby Pac-man. The seller was nice enough to take and send some photos. One of the photos in particular caught my eye…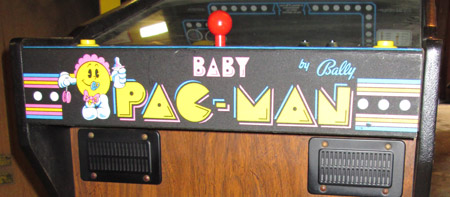 ---
In February I got a non-descript email about a private owner looking to sell a couple of arcade games. I always look forward to these emails, but this one in particular soon unraveled to be more than the average Joe looking to sell a Pac-man. It was a short story about a father who used to be employed at the Bally / Midway plant in Franklin Park and had brought his work home with him nearly 25 years ago.

---
Somehow in the span of a month I managed to double the size of my arcade, the only problem was all of the machines were in Chicago. In March and April I found a Mad Planets for $50, my white Mr. Do! and another game that I hope to be sharing about by Sunday and somehow I had to get them back home. (more…)
---
In the midst of all of the craziness, a couple weeks ago one of those bootleg like white Mr. Do! machines came up for sale in the Chicago area! I have only heard or seen these Mr. Do! cabinets in New York, or in Massachusetts (and one in California that was hauled back many miles) so to see one come up on eBay for a relatively cheap price I knew it was now or never. (more…)
---
I'm still in shock, these things can transpire so quickly. Yesterday was a normal day, push through the leadership coursework, caught up with a couple of people, sit down in front of my computer and what do I have waiting in my RSS feeds? A Mad Planets for sale for $100 in Evanston on Craigslist. But the ad was posted at noon, surely it was gone by then. It wasn't…and I even got it cheaper!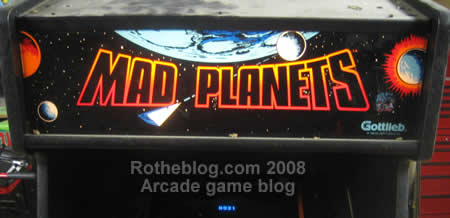 ---
It's been about six weeks since I finally acquired my Mr. Do! arcade game in Chicago. Having looked for just over two years for this game only now can I laugh when I remember what Joe Magiera said when I first met him in the fall of 2006. (more…)
---