Here's a pretty niche little reproduction project that is going to happen, a small run of Dig dug cabaret (mini) control panel overlays. My guess is that probably around 25 pieces will be made, and pre orders for the Dig Dug overlays have already begun – Dig Dug overlays at RGVAC – Dig Dug overlays at Klov. Well, now the artwork is done so the artwork is in the hands of Rich Lint to make the prints actually happen.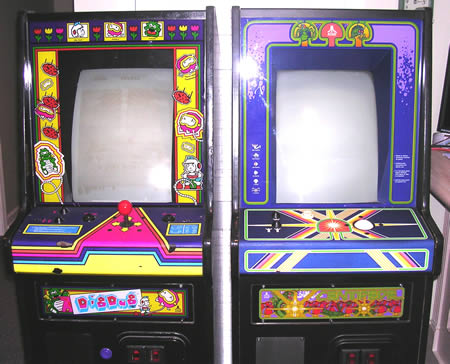 ---
The classic arcade keychains are ready to roll. Brian Jones finished up a couple of his first samples, Dig Dug and Zookeeper and the detail is phenomenal. I was really amazed at how well the keychains represent the actual cabinets and the fine detail Brian was able to achieve. (more…)
---
I was surfing a collector's website the other night (Brian Brzezicki) and I came across photos of his Mame machine. It is an old Dig Dug cabinet painted solid black, like most Mame cabs, but this particular machine caught my attention. Check out that custom side art! Isn't that cool? It's an illustration using some of the most popular arcade characters like Donkey Kong, Pengo, Pac-man and Dig Dug.
Tim Wann did the custom art, but you won't find the piece on his website for obvious reasons. Makes me briefly think about doing my own custom art since I have such great illustration skills (which I may have some news about in the coming months), but at first blush, it would seem custom side art and other artwork would only work for Mame machines. Even then, it seems a lot of Mame guys like solid black, don't have a lot of appreciation for the original art (ie lighting bolt or fire themes), and seem to like mid 90's games. I find this Dig Dug Mame really refreshing.
Update – September 16th, 2009
Here is a larger version of that custom arcade illustration with Dig Dug and Pengo. Thanks Tim for the link.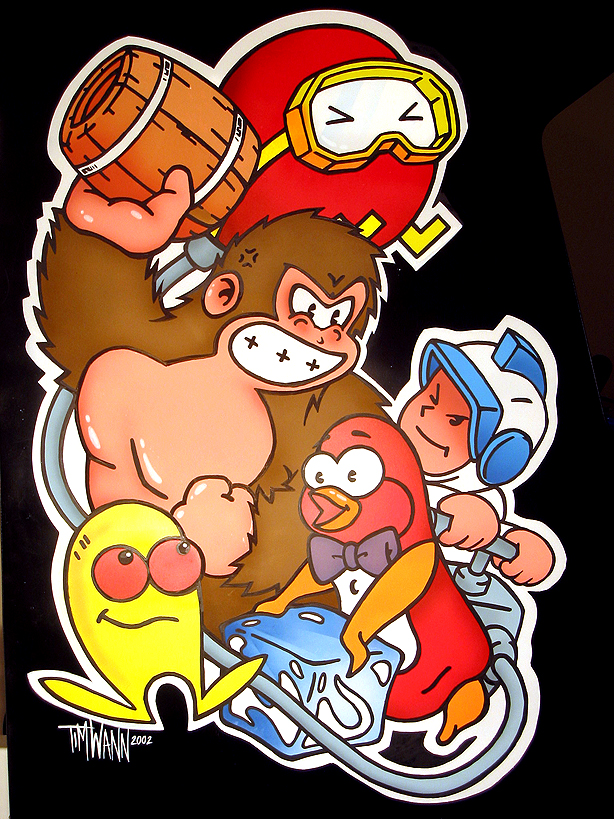 ---
For a month or so I had been responding to the common Craigslist ad looking to "buy" games. Usually people put out these ads looking for freebies, but I knew it couldn't harm me any to try to sell some of my non working games. I wanted to try to reduce as many distractions as possible to focus on studying, and fixing up the Midway Wizard of Wor, Atari Dig Dug, and Dynamo cabinet Tetris were time suckers to say the least.
The Tetris was the only one I was seriously considering keeping in my game room, but the black cabinet was so ugly. The original intention was to resell these once they were working to help pay for gas, or take down the paid cost on one of my other games. But the motivation for selling a game to make a small amount of money waned for me. I got my holy grail, the Jr. Pac-man. I had originally wanted to use the money I made to help pay for my trip out to PA to pick it up. But thanks to DanOfEarth, that wasn't an issue anymore.
Finally, last Tuesday I found some people who weren't looking for free games, and were interested in the three I had to sell. I just wanted my itemized costs back in total for the games, and the price was more than fair, great if you intended to keep one of the games. Dig Dug is too slow of a pace for me, Wizard of Wor holds no interest for me other than the fact that it is a two player game, and Tetris, again, ugly cabinet with no sideart.
Here are some photos of the games being taken away.
I made a whopping $10 on my sale after all of my costs were added up, but I learned a lot. I originally bought the Dig Dug as a Land Sea and Air Squad, painted solid black on the sides. It was my first game that I brought back from the brink of oblivion, and restored in some sense of the word. It was a lot of fun, bargaining for the deals, but it was a lot of work, and without knowing much about electronics, it was hard work for me to constantly figure out all of the problems I was having with any given game.
In the end things worked out great. I didn't lose anything but time, and that is debatable when compared to what I learned and the contacts I made hunting down the arcade parts. The games found a good home where they should be reused in a family fun center, and I can park in my garage again:) Just in time for winter. Not to mention I can keep the other two cabs in case I need a fix, my empty Atari Food Fight and Atari Xevious.
---
One of my friends and fellow local collectors here in Indianapolis, IN has a (Atari's) Dig Dug slot machine. It is pretty wild, all of the colors, the whole presentation is like "BAM!" You can imagine seeing it in person, it plays little automated clips as well as the classic
coin operated Dig Dug music.

I was looking for something arcade related to post about today, and came across this photo I took in April. I imagine these Dig Dug slot machines aren't too common, and that is what sparked the idea to post this photo.
I would say this is the first in the series of "Collector Meetups – My Favorite Games". Granted, this may or may not be a game. But it seems that with each video game, or arcade game collector I meet I learn about a classic game I had never heard before. Or in this case, some other rare arcade game oddity.
I may never post another one of these again. But who knows, if I need another idea, at least I have this arcade topic to turn to.
---
I have gotten a little motivation back, and took a little time to investigate this further.
I had been going back and forth with Bob Roberts on this chip, and without even looking at my board I was able to kind of figure out with his help that this chip was plug in play, which meant it should be socketed and no soldering necessary. Plus, since it was PnP, that meant I didn't have to burn anything to it either. He said the chips are very sensitive and this is fairly common.
In the Dig Dug manuals, it says that a OL and/or OH error are due to a bad RAM. It just depends on what version of the Dig Dug PCB you have to find the location on the board. If you have Revision A, the position is 9M, and if you have Revision B of the PCB, then it is position 4K.
I thought for sure these positions would be printed in the manual, but they weren't. I pulled the board out and did a comparison of component side elements on the board to the two drawings in the manuals. I have a Revision B Dig Dug PCB, so that meant my bad RAM was at 4k.
Here are some photos of the PCB. I circled the 4k labeling, it might be hard to see. Also a photo of the bent RAM and the RAM in the socket.
I took a look, and it was obvious. There my RAM set, with the front leg bent and barely in the socket. I was floored, how had it worked up until now? It might be as simple as taking that chip out, bending the leg back, and the game might work. Well, I did just that, and it didn't work. So I am guessing that after so much time of it being almost bad corrupted the chip.
I am checking with Bob to see if he has that chip. The number on the top of the Chip says JAPAN 2E1 HM6116P-3. Would like to get a larger order of stuff to bring down the total cost for the one part, but if it means getting the game sold, I may not wait.
---
Got out in the garage today and started putting in the new harness. I got most of it in, and took out the old one completely. I just braved it and assumed I could find all of the correct connections for each of the molex connectors. That is the great thing about this harness, there are no solder points, all plug and play. I think I figured out today though that I will probably need a connector for the coin door, the old one was cut off completely. Here are photos of the male end that I have on the harness.
I am also starting to think that there is an audio board that needs to go with this, which really pisses me off that I am figuring this out now. I have to try to find out which one.
---