Darin Jacobs announced pre-order sales for Satan's Hollow control panel overlay reproductions today. Satan's Hollow artwork has a painted feel and has never been reprinted due largely to the daunting nature of the artwork. But it sounds like within two months we could see a small run of CPOs printed from Phoenixarcade.com and we have a sneak peak with a detail shot of the artwork. (more…)
---
There have been a couple of auctions on eBay over the past two weeks that have gotten arcade game collectors attention. There were of course the two different classic Atari Computer Space games that both went for over $10,000, and there were also the NOS (new old stock) Bally Mappy and Atari Food Fight bezels that were found in an old operator's warehouse in California. The final price of the Mappy bezel was $271.55 ($255+$16.55 shipping), and the Atari Food Fight was $277.05 ($260.55+$16.55 Shipping)! Wow! How can one brand new, mint condition piece of any arcade game bring so much coin? Well, let's look at it a little bit.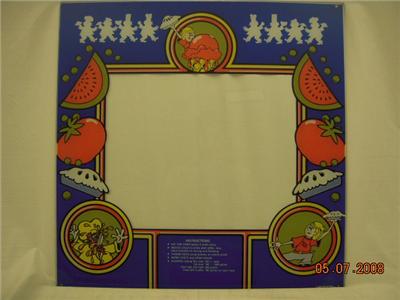 ---
Earlier this week, I found an individual on Craigslist in Columbus Ohio who was interested in buying my Atari Food Fight cabinet. This is the second cabinet I have sold to someone in the Ohio area. I sold my Atari Xevious cabinet in February to another individual in Dayton Ohio. This is the cabinet that I got from Tim Hill in MI, who got the Food Fight for free from Robotron (klov forums) in the Detroit area. (more…)
---
Over the last year, I kept trying to think of ways to get up to Michigan and meet Mudmantim to get a couple of cabinets off of him, an Xevious and a Tempest. He basically told me I could have them if I wanted to come get them.
Well, the trip itself would have cost more than the cabinets were worth, so we figured out another way. I met him midway in Fort Wayne and got four cabinets in trade for the non working (at the time) but complete Frenzy in exchange. This was a game he really wanted and he is a good friend so even though it wouldn't benefit us either way financially, I knew Frenzy would get a good home.
I immediately sold the Tempest, I got sticker shock on my gas costs. But I kept the Xevious with intentions to put it back together. But as circumstances changed (GMAT and MBA program), and I fought so much with other games this summer, not to mention fully working Xevious's top out at about $200, I decided that maybe the cabinet was expendable.
Two weeks ago I found a guy in Dayton would wanted to buy a cabinet for a Mame machine and I offered it up at my cost. He came over last weekend and bought it.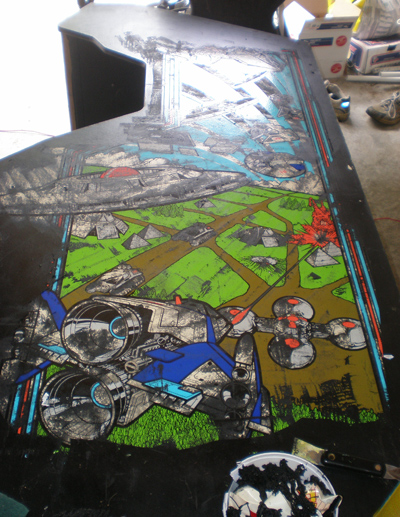 I was sad to see it go. I still love the sideart on Xevious, even though the gameplay isn't that great. I am going to keep hoping that I can find one locally for market price, it is hardly a rare game.
But even with the sale I still managed to keep two games in the garage, the Food Fight cabinet, and the new Ms. Pac-man.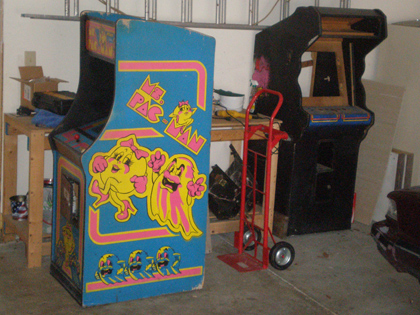 ---
I was surfing tonight, trying to come up with an idea for an arcade related post, when I came across this arcade history.
On arcade-history.com, I saw a snippet of information on the history of Jr. Pac-man that I did not know;
Jr. Pac-Man was developed by 'General Computer Corporation' (GCC) for Bally/Midway and is essentially an enhancement to "Ms. Pac-Man"
I thought to myself, isn't General Computer Corporation the company that made Super Missile Attack back in the day, a hack enhancement board to Missile Command and was sued by Atari? I thought that the lawsuit was settled, GCC went under, but before they did they had to build three games for Atari as part of the settlement. Food Fight and Quantum were two of those games, and the third was never made.
I took a look at General Computer Corporation on Wikipedia, and this is what I found;
The General Computer Corporation was an early video game company started by Doug Macrae and Kevin Curran.

The company started out with the game Super Missile Attack, which was sold as an enhancement board to Missile Command. Atari sued them for this, but the suit was soon dropped after Macrae and Curran agreed to develop games for Atari and stop making enhancement boards without permission. Their next project was Ms. Pac Man, which they developed as an enhancement kit for Pac-Man. They took the game to Midway who sold it as a sequel to Pac-Man.

They made other arcade games for Atari, such as Food Fight…
So, GCC was a third party that development coin-op games for the big arcade companies at one point in time. It looks like GCC development Ms. Pac-man, and more importantly, Jr. Pac-man.
I would assume that developed means they designed, built, programmed and fabricated the arcade machines themselves. Which leads me to believe that maybe an artist at GCC would have done the sideart and other artwork / stickers for Jr. Pac-man.
I am going to have to explore this a little more. At the very least, I still believe the famous pinball illustrator Margaret Hudson may have some contacts to lead me to the original Jr. Pac-man artist. I just need to find her contact information, hopefully an email. It almost seems like she does freelance work for Stern Pinball now, or works directly for Stern in their art department.
---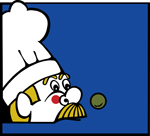 Today I finished another piece of the Food Fight Kickplate vector artwork, tracing the white chef near the upper left corner of the kickplate. The vector artwork was simple, and a breeze to do. I think the next piece will probably be right top corner with the other watermelon slices, since I traced one slice already on the kickplate lower left corner.
I know this particular section of Food Fight artwork looks weird, but the chef is the only full piece I had. The photo had pieces of other fruits and vegetables, but nothing in full, including a pie. I will probably need a close up photo of just those artwork items.
---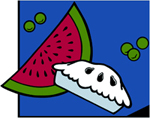 Got some time to start on the vector Atari's Food Fight kickplate artwork.
The colors don't match obviously, I haven't done any of that yet. Just getting the base artwork, which was fairly simple to vectorize. The dot pattern in the pie was the hardest part, and that may just be a smidegeon off, but is very close.
---