I have a line on a complete, more than likely not working Operation Wolf. If you haven't seen the original dedicated cabinet before, check out the photos after the jump. Looking for someone who likes the game, has some space, and wants a deal / has an interesting trade locally to Indianapolis or surrounding cities. (more…)
---
Just before we left for the Pinball Expo 2009 in Chicago, I had seen a post on RGVAC for a guy in Lafayette Indiana who was wanting to trade a complete Xevious for a different empty cabinet. Three weeks later and some leg work, we finally made the trade. (more…)
---
In the midst of all of the craziness, a couple weeks ago one of those bootleg like white Mr. Do! machines came up for sale in the Chicago area! I have only heard or seen these Mr. Do! cabinets in New York, or in Massachusetts (and one in California that was hauled back many miles) so to see one come up on eBay for a relatively cheap price I knew it was now or never. (more…)
---
Does anyone know about this one? I know Maneaters are hard to come by, but have the roms from a working PCB ever been dumped from this game? Does someone have a link to where they are hosted online? I have searched some of the more predominant Mame rom websites and didn't see anything at first blush. (more…)
---
One of the most time consuming aspects of building any Mame machine is collecting all of the "necessary" files. A short list of the digital files would include working game roms, bezels, cabinet photos, marquees and of course character art. The coolest Mame machines have all of the classic arcade artwork including icons of the different gaming console systems that will be used in the menus for selecting different emulators.
I came across a topic on the Arcade Controls forums (BYOAC) where a user had a collection of these icons that he had been editing on an on-going basis. I thought I would download the zip and take a gander at what I expected to be amateurish looking graphics. I was pleasantly surprised, check out a few of the icons of the consoles below;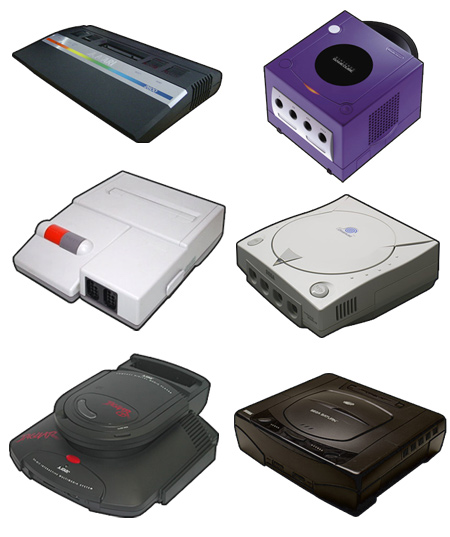 I don't know where the console images came from, maybe they came from an include with a front end or maybe they were generated from photos. Source doesn't matter, there are a ton of console icons in this archive and here is the complete list of the gaming systems. All of the icons are at a fair resolution with transparent backgrounds (PNG files), great for use in Mame or even in a design for a website about video game news. You can download the icon collection here.
Amiga CD32
Atari 2600 Jr.
Atari 2600
Atari 5200
Atari 7800
Atari Jaguar
Atari Jaguar CD
Atari Lynx
FM Towns Marty
NEC PCFX
NEC TurboDuo
NEC TurboGrafx CD
Nintendo DS
Nintendo Game Boy Advance
Nintendo Game Boy Color
Nintendo Game Boy
Nintendo GameCube
Nintendo N64
Nintendo NES3
Nintendo SNES2
Panasonic 3DO
Philips CDi 450
Sega CD
Sega CDX
Sega Dreamcast
Sega Game Gear
Sega Master System II
Sega MegaDrive II
Sega Saturn
SNK Neo-Geo CDZ
SNK Neo-Geo
Sony PS2
Sony PSone
Related Gaming Console Icon Links
These console icons are all over the place, but the quality lacks in comparison. A quick 5 minute search turned up a couple of websites for vector based icons of video gaming systems. These links contain a variety of images, from more modern systems like Playstation to consoles of the last 5-8 years like Game Cube, as well as some icons for game controllers and handheld gaming systems.
But again, someone created these icons with Illustrator or another vector package instead of using real photos. These are low res web images that would take some reworking, like cutting out backgrounds or re-drawing, to incorporate into your Mame system, ever more increasing your appreciation for the above icons.
Have any more websites with gaming console icon images with similar quality and preparation as the ones listed above? Did you generate images for your own Mame system of the individual consoles, or did they come with your front end? Did you find the original topic thread and can give me the link since I must have not bookmarked it? Leave a comment.
---
The World's Largest Arcade Machine, verified supposedly by the Guinness Book of World Records, was a video I came across on the Klov forums tonight.
More ludicrous than anything else, I think that building the largest coin-operated machine in theory is pretty cool, but in reality it just looks stupid. You have to stand on a stool to play it, with hand sized buttons and a screen so large your retnas are fried before you can say "Sammy Davis Junior only got one eye."
The World's Largest Arcade Machine measures 14 feet tall, has a 75 inch screen, weighs 1300 pounds and I think in the video they say it's 9 feet wide. What a colossal waste of space. They have a tiny little motherboard in it that plays 150 games and the style arcade game makes most of us collectors, with a taste for true art, die a little inside. The World's Largest Arcade Machine is fashioned after the popular Mame machines of today, with the artless sides, and the generic lightning bolt, fire storm, or other combination of black veneer details that makes us think, "Big black waste of space anyone?"
It's like all of the entertainment value of a season of American Idol, 1 minute stretched out to make a year of shows and you wonder where the time went. My favorite part was the real "Coins", and the fact that although the largest game ever takes up more space than your guest room, the machine isn't capable of freeplay.
---
After I sold the R-Type today, I moved the historic Pac-man cabinet back into the main living room. I hope that in the next month I can work on it a little bit, installing the computer I have and finalizing the final details of my mame machine. It has been so long, what a nightmare. It would be nice to have it done by November, but who knows what the next few months hold.
---