It started snowing last night, and when we woke up we had a fresh 2-3 inches on the ground, the first snow of 2007 in Indianapolis, IN. This is the first time that Nokes is seeing snow, so we were curious what he would do.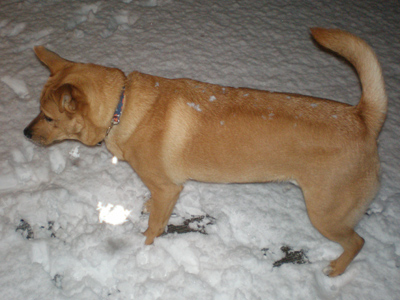 He handled it pretty well. He would drag his nose through the snow, moving with his snout submerged, and then when Sarah would move around and he would hear the crunch of the fluffy powder under her boots he would follow the sound.
He did try peeing on the deck, and no, that isn't going to fly:)
Later today, when I took him on a walk, and there was ice on the ground, he didn't like the sound of my shoes gliding on the ice….but he got used to it.
---
We went to Petsmart last weekend to see the puppies.
There was a one year old full bred Shar-Pei there, exact same coloring, similar tail curl and the exact same coloring right behind both of it's shoulder blades Nokes has this extra fur that is lighter in color right behind his front legs, and we thought that was weird. But this dog, "Zeus", had he exact same coloring.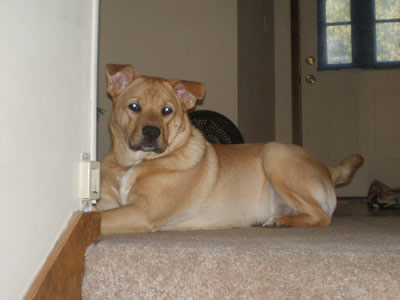 Granted, the head was significantly different. Nokes has wrinkles, but not like a Shar-Pei, but that was the main and seemed to be the only difference. Even the size was exactly the same.
A fellow friend and dog owner told me recently that Nokes has a retriever nose, and they would seem to have some expertise because they had a DNA test done on their dog because the curiosity killed them.
So right now, I think, Nokes is Golden Retriever because of the coloring and nose, Shepherd from the coloring on his chest, and Shar-Pei because of what I said above. DNA testing is really tempting. If it was like $50 I would do it, my curiosity is that high. I was told that the DNA test can only check for about 300 breeds of dogs. I don't know how true that is, I haven't researched it. But I would hope my guesses aren't too far off, and I would think they would be able to check for those three breeds.
---
I got the dreaded yell down into the basement later yesterday afternoon. "Jeff! Nokes is gone!".
Apparently the gate got left open from the Friday night party and Nokes was gone. We didn't know how long, at least 20 minutes, and both of us started to race around. Sarah was shaking.
She got in her car and started to drive and call his name. I followed behind her a ways, yelling as loud as I could. It only took us about five minutes and there he came, sprinting out of the backyard from two or three houses down. I know there are some dogs down there.
I figured he wouldn't go far, he seems a little bit like a homebody dog, but at the same time there is always the fear of the unknown. We know how much we love our dog, and it was scary from the beginning that he was running loose around Indianapolis.
I remember when Jonah, our family's first dog, made it out in Dearborn. We started at a house I had never been to and walked back to my grandparents house, over a mile, maybe two away. Where did the dog go? He was sitting on the doorstep of the house that we started, having only been there for 15 minutes. Pretty amazing. I was putting all my chips into that idea. Nokes is smart, he'll come home. We've tried to train him to wait for an open road with cars when crossing. Who knows if that sunk in. It makes you wonder, do you take more time to walk him into some people's yards so it isn't something so exciting, so appealing? Or maybe doing that would make it worse.
All I know is that I was glad he came home. With substantially busy roads on three sides of us, it is a frightening idea of Nokes running loose.
---
The big game was a big part of the point of going to Allendale, Michigan this weekend to see Justin and Jennifer. University of Michigan vs. Michigan State game is a time honored rivalry between two college football teams dating back 100 years. They invited friends from both sides to cheer on their school of alliegence, so we knew today had the potential to be interesting. But before I get ahead of myself.
In the morning Justin and I watched a couple more episodes of Scrubs until the pool at GVSU was open. At just before 11 we headed out, Gary Goosen drove, it's been a couple of years since I've seen him. It will be like old times in high school.
I was really looking forward to getting back into the pool. It has been quite awhile, if I have even done freestyle since we have moved to Indianapolis at all. But it wasn't meant to be. We got onto the pool deck and the coach told us that they had a meet today. We could swim for 10-15 minutes if we wanted, but they we had to head out.
So, we managed to get into the gym so I did some lifting and the other two did some stomach work and whatnot.
When we got back, Justin and I watched a couple more episodes before the game, we're moving right through them. The game was to start at 3:30, and people started showing up around 2:30.
It was a fun evening. They had an amazing amount of people there, all close friends. That was really cool for them, to see those people show up that the have been building relationships with. When they had their house warming party, they had a ton of people show up, but there were a good portion that weren't close friends, just people from work.
Sarah came back from Grand Haven with all sorts of news from her fun day with the dog and both of our parents. She fixed Nokes collar, took the dogs to the beach, made carmel corn, and did some shopping.
The game was pretty pathetic on both ends. State had a ton of penalties, and all Chad Henne did was air out a whole bunch of Hail Mary's and hoped Mario Manningham caught them. The percentages were there for long passes to possibility of catches, so we were bound to get a few and in the end Michigan won the game 27-23. The best part of the game was possibly when the cameras showed Henne running out. He did this little jump to hit the field goal pole, and totally bit it face first. It was awesome.
People left pretty soon after the game was done. About half of us stayed around, had some more beer, started up a fire and had some smores. Everyone called it a night pretty earlier, most people crashing around 10. Sarah left at that point too, knowing that Nokes would need some attention before bed. I was wide awake until midnight. Justin and I got in a few more episodes together, and then I watched a few on my own before hitting the sack.
---
I finished off my week with three days off. They were productive days for sure, it is always great for me to be at home, get to things that I never seem to have time for during the week, and reach a certain level of satisfying productivity.
I have been able to spend some time in working on the blog this week, getting some advertising setup and getting some more of that great content added. Not to mention add some reciprocal linking which should help get the site higher in the rankings and bring in more revenue as well. This morning I tried to figure out what to post in the arcade section, so I worked on some vector stuff.
I was actually killing a little time. It was freezing outside, and I knew that today was our day off from the gym so that meant I needed to take Noksie on a walk. It wasn't that much warmer when I went out around 10. It was the best walk I have had with him in recent memory. Granted, he is a very good dog and obedient in general. But today he just seemed to heel the whole walk and not pull me in some odd direction with all of his nearly 70 lb might.
On the walk I had a lot of time to think, and when I got back I wrote down those thoughts concerning my future in the rough form of a plan.
Then I worked on a layout for a potential client, which was actually really fun. It was a gift for a part that he will be giving me for an arcade game on Sunday.
Soon after it was time to get things ready around the house. I took care of some of the small things I knew Sarah would want done and put in a pizza for a late lunch / early dinner.
Sarah had a half day in service, so that meant we should be able to leave the house at a reasonable time. She got home at 3:30, and most everything was ready to go but load up the car. We loaded Nokes up, got some gas, and we were on our way.
Or so I thought. Driving up US31 through Indiana is always like a never ending screeching child. It's tries your patience until you feel like you're about to break and you have finally made it to Michigan. I knew we would hit rush hour traffic by Carmel because of the time, but today was particularly bad up north of Westfield. So we jogged over to 421 and went north parallel to US31. It was a nice drive. But by the time we actually arrived, with a quick stop to let the dog eat and fill up a tire, our total travel time was somewhere close to five and a half hours.
Sarah couldn't stay, she was going back to her parents house. She dropped me off, said a quick hello, and headed out. We knew that Nokes would probably be crazy the rest of the night and the earlier she could get over to the Chapman's the better.
Justin and I didn't do much, we watched about 4-5 episodes of Scrubs and then hit the sack.
---
Tonight Sarah came down as I was relaxing and asked if I had seen Nokes. I told her I hadn't, but figured he was around and would turn up in a second or two of searching. But after I heard Sarah make two loops through the house I started to get worried.
Then Sarah was laughing hysterically from our back bedroom. Nokes must have been digging around on the lower shelf and closed the door on himself. In a little tirade he unwound most of the toilet paper and then chewed up the edge, which was really bizarre. Sarah joked, "Well, at least he won't have to wipe himself next time he goes out to the bathroom."
~Side Note: I added three photos of Nokes from this month in the photo gallery. I also added a link at the top of his section so you no longer have to go to "Photo Galleries" specifically to see it.
---
Paul was supposed to be over at 10 am to help me cut out a board to mount a monitor in the Tetris. He was on time on the dot.
I took us about an hour and a half, with all of the "try it again's", putting the board in the machine, and then putting the heavy old monitor through the opening to make sure it would fit. A lot of times we had to shave parts down, most of the extra cuts were to accommodate the screws on the sides of the monitor frame.
After Paul left, Sarah and I took Nokes on a walk. (Non Lifting day :)) We had a quick lunch when we got back and then started my day of focus. I studied for a good part of the day, two and a half hours to be exact. I would study for an hour and then take a break. An hour on, 20-30 minutes off. For breaks I would watch Scrubs, or play some Jr. Pac-man. I even chatted with Chris for a little while.
Sarah spent the day cleaning. She organized stuff in the family room, cleaned up the kitchen, did laundry, and kept reading the Harry Potter book. She is getting closer, I would say she is about half of the way through it, and I believe this is the last book. At about 4 pm she went out to the store to do some shipping, and get some food to make for tonight's party. She didn't get back until close to 6, apparently she had some problems. We worked together to try to get the cheesy potatoes made. The Revive part was at 6:30, but we didn't get there until almost 8 pm I think.
Turnout was good for the event, mostly the regular crowd except for Emily who was home with her friend Sean for the weekend. She got a new car and we checked that out. But about half way into the party there was a mass exodus of about 5-6 people. The rest of us played a game of hearts and had a laugh until just before 11 when we all headed home.
I tried to watch some of the Rockies game when I got home. I saw Matt Holliday hit a 3-run homer that put Colorado within 1 run, but fell asleep and missed the whooping that Boston put on in the later innings.
---