Just over a week and a half ago a Star Wars cockpit glass marquee sold on ebay for $182.50! Wow. Quite a bit of demand for an original piece of glass in great condition. With shipping that is over $200.00 for this one piece of artwork. Wonder if the winner saw my post about the Star Wars films and that eventually these pieces will be reproduced. (more…)
---
Own a Kangaroo or Arabian arcade game? Francis M. is checking interest to see who might want to see some control panel overlays reproduced. The reproduction would be silkscreened, reproduced directly from scans of never applied overlays that he has access to use. Like any of these projects, this is a feeler and would take at least a pre-order of 5 pieces, probably more.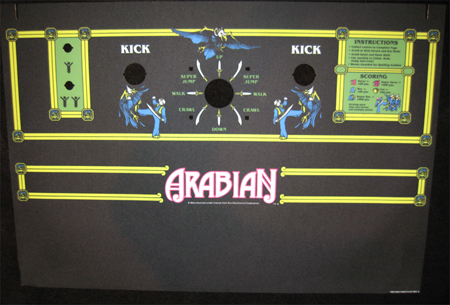 ---
I cranked through this Mad Planets artwork this week, knowing the end of the week and weekend would be busy busy and after a little hiatus since my last vector project in the Rally-X control panel, I was in the zone to finish this bezel. I am really pumped, the artwork was pretty tedious in portions and I'm happy to have it finished and ready for the next piece. (more…)
---
I was in the mood yesterday to do some tracing of arcade artwork, so I started working on the Mad Planets bezel. The high resolution bezel scan is available from a couple of different sources and from what I can tell appears to be an accurate file. The artwork itself is fairly boring, it's a good supporting piece for the whole cabinet, but if you compare the level of detail and composition this bezel artwork won't floor you. But tracing it, that's another story. (more…)
---
Big fan of Smash TV? I will say that I am a pretty big fan of the cabinet artwork, even though the gameplay isn't my cup of tea. After a year of patiently waiting and revising, Mamemarquees.com just finished color matching the artwork for the Smash TV reproduction control panel overlays and they are now ready for sale. (more…)
---
Pac-mania isn't a widely popular game, it draws a lot of it's following because it is one of the last in the series of Pac-man games. There was a Pac-mania that popped up here locally in Indiana that didn't fetch much over a $100. But, that doesn't mean there isn't any demand out there for sideart, and if you have been looking for a good reproduction, This Old Game is almost ready to make some high quality inkjet prints available to those who need them. (more…)
---
Back around October Rich Lint told me that he would like to have the Rally-X control panel artwork vectorized. He knew that printing this artwork would be a long ways out (read probably a year), but it would be good to have ready to crank out when the time was appropriate. The Rally-X artwork was highly illustrative and exaggerated and was a little tricky in a couple of places to trace.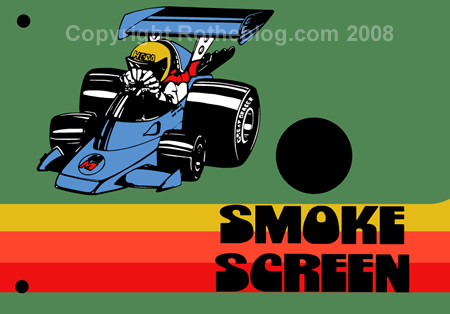 ---