As of my last writing, my arcade game blog had just crossed the 20,000+ monthly unique visitor plateau. Though, I knew as of that writing that I was going through a tremendous growth spike, I just never would have guessed just how high it would go. (more…)
---
I wasn't sure if Rotheblog.com – Arcade game blog would ever reach 20,000 visitors. As I monitored traffic in June I thought that it might be possible by the end of the year, but I didn't figure Rotheblog.com would double it's traffic only two months later. (more…)
---
Within a week after I launched the brand new design for Rotheblog (Oct. 2007), I had one of those zen like "Doi!" moments. You know, kind of like that beer commercial where the one guy keeps mistaking men for women, and women for men. Ok, so less zen, and more embarassment and licking my earlobe.
After my re-launch, I started to look around more at monetized blogs and, for whatever reason, it hadn't dawned on me that the layouts were a lot wider than 800px. I admittedly hadn't looked at user display resolutions for quite some time. Wow! Things had changed, and if I would have paid closer attention back last year maybe I wouldn't be launching a completely new design today.
According to W3Schools Browser Display Information, as of January 2007 54% of internet users were using a screen resolution of 1024×768, 26% were using a resolution set even higher, and only 14% were still at 800×600. Granted, I take these stats with a grain of salt as there is a certain type of user who visits W3Schools, and it isn't my grandma. But, wider layouts are widely adopted now, and I personally believe there is a lot of truth to these stats. Have you seen an 800×600 view lately in your daily life? At the library, at a child's school? No, you haven't, and if you have, Oy! Chunky Chunky? Ricki Lakie? It is almost offensive how big everything looks on screen.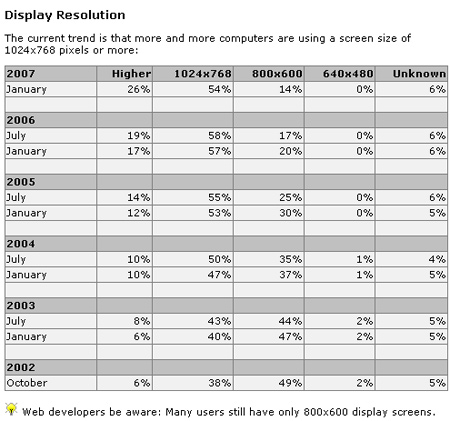 I understand the smaller resolutions for those of us with diminishing eyesight, but seriously. Back to the stat, the most telling information is the shift starting in 2006 away from the smaller monitors. It's not so much that the 1024×768 resolution has spiked, but more that we (as digital consumers) just don't like big fat 1990's text anymore on those old less than ladies man looking CRTs. And again, we're missing quarterly stats for all of 2007 and the months so far in 2008. I am sure the percentages have shifted even more.
So, I moved Rotheblog over to at 1000 pixel wide website, which gives me more areas for my posts to breathe, and a second column for information as well as space for graphical ads. Plus, I wanted to continue to focus this blog more on arcade interests and less on my personal information. I had this big plan to launch Rotheblog 2.5 to coincide with the release of WordPress 2.5. However, Automattic had other ideas, and delayed WP 2.5 at least a week and who knows when the new release will actually drop.
In terms of design, my idea was to be a pure retro design that really said "arcade games". But I ended up moving more towards some very subtle retro elements and incorporated artwork from my favorite games, Pengo, Jr. Pac-man and Mr. Do! I figured out, once you account for readable links and a website name, there just isn't a ton of space to play with in the header without becoming too busy. I really only did design for the top portion, I settled on the awesome WP-Premium theme to use to add my own customizations.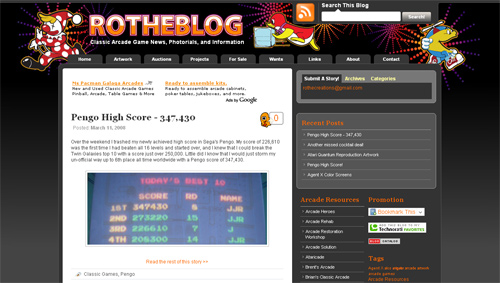 For those of you still wanting to read the more personal stuff and can no longer find those links, look over on the top right at the tab called "archives". There is a complete listing of all of the categories on the website, from my Photo Galleries and Movie Reviews to my own daily news.
So, what do you think of the arcade Rotheblog design?
It is time to get some feedback from you other arcade enthusiasts. What do you like? What would you change? Are there aspects of the site that make it hard to use or confusing? I am open to all feedback to make this the best Classic Arcade blog as possible. Leave a comment with your thoughts.
---
After over two long months of work, I am putting out my informal "Beta" launch of the revised Rotheblog.com.
I assume that there will be some bugs, and I hope that all of you will tell me about them. Email me at rothecreations at gmail dot com if you find something that doesn't work, or just visit my contact page to get a hold of me that way.
If something is hard for you to find, drop me a line. I want this to be as easy as possible to navigate with all of the ranges of different content I now have going on here.
I do hope some of you will make comments. I know I had this feature temporarily available before in the Movies section, but that was very specific. Now, you can make a comment anywhere just about, so I really look forward to seeing some of that.
Hope you like it, it was a hard decision when I started, and it was a lot of hard work, but I think it will be well worth it in the end.
~Jeff
---
After church today I got to talk with Jim a little bit about his experience with the GMAT. He went to U of I, and he had the good fortune of having Cummins help with his education. He did really awesome on his exam, and I got some good information that helped me focus my direct that much more and my plan of attack.
When we got back from church, we ate lunch with my parents quickly, and then they had to leave. It is always sad when visitors go, I know both Sarah and I always visit slumpsville for about the hour following their departure.
Eventually I went and played the Jr. Pac-man for about an hour. Sarah stayed upstairs and continued to read her Harry Potter book.
I got back to work, and started finishing up the final details to launch Rotheblog. I didn't finalize everything before Dave and I got in touch. We were going to play tennis today, the second and last time this year before it got really cold. Sarah headed out to go to a candle light party at Paula's, and I met him at the tennis courts. We played until about 6:30, the wind was really bad today but my outcome was favorable in general.
Right after I got back I finished up final details and launched Rotheblog and sent out an announcement to friends. Man, my bulk mailing list is really outdated and I had forgotten that it was really difficult to manage that in Gmail. Sarah got back and we took the dog on a walk.
We talked with her parents at about 8, tonight was game 7 of the baseball ALCS series between Boston and Cleveland so there were no cartoons.
At about 9:30 I sat down and talked with a freelance client, trying to finish that up and have one less distraction while I am studying. I didn't do much for the rest of the night, ending up passing out in front of the game downstairs, I was beat. Red Sox won 11-2 and advanced to the 2007 World Series.
---