It was a crazy week, an exam and two papers and then the July 4th holiday weekend and a fun time with family. But at the end, I knew that I would be traveling to finally pick up my own, original, Universal Mr. Do! arcade game. (more…)
---
This could become a fun daily classic arcade topic if I could find a game a day.
Hats off to Richard Ford. This past week he scored two "New In Box" (NIB) Universal arcade games, Space Panic and Zero Hour. Where he manages to find NIB box arcade games over 25 years after they were released boggles my mind. I know he had told me in the past of a NIB Joust he got in a trade, and a NIB Rally X. Plus, he just bought the NIB Pengo Mountain Dew Pepsi Machine a couple of weeks ago. His collection is truly top notch, and although some of the games themselves might not be rare, he has a ton of classic games that are almost mint condition.
Here are the photos he posted, the Universal games look really nice;
The forum topic on Klov mostly discussed whether or not these two Universal games had sideart on them. There are photos on klov showing the classic games having sideart, but the images look like they were scanned from a catalog. Finding a Space Panic or Zero Hour with sideart is nearly impossible. Here is what Richard had to say;
Both the Space Panic and Zero Hour are in the Generic Universal Cabs like you see for Mr Do! The dedicated cabs were extremely rare and I have one the coolest ones for Cosmic Alien. Universal did some interesting things with their games, they seemed to have no rhyme or reason to what they put in what cab. You'll see some cabs with Devil front kickplate art and then some with plain black, and the some like mine with universal artwork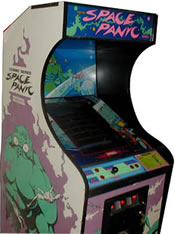 Richard's Space Panic and Zero Hour came with the Universal cab that has the red strips on the side, like Mr. Do! and Ladybug. Here is one image of the Space Panic that I took from Klov. You can see it had some cool sideart, which is news to me, because I personally hadn't seen any of their classic games that had anything but a generic cab. I thought the minimal success of Universal were related to Mr. Do!, and that all of their other games saw minimal production quality.
I'll update this topic as I see more photos once he gets them moved into his gameroom. You have to be careful with these old games and the weather conditions.
---
I was surfing yesterday, trying to find information about who licensed Mr. Do! from Universal and made the white Mr. Do! with sideart. I read some references to a game similar in theme to Mr. Do! called Jumping Jack from Universal.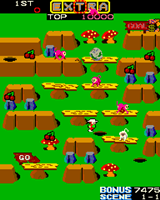 I decided to try this classic game out in MAME. I was pleasantly surprised.
In Juming Jack, you are Jack and you jump (if you didn't get that from the title). But seriously, Jack is is little guy with a white sombero and I can only imagine is in the jungle somewhere.
You jump from a number of different obstacles, tetering boards on mounds, to bouncy mushrooms, to platforms that are attacked by Rhinos, all sorts of stuff. As Jack you have to make sure to land on the wood before the monkeys do. The whole point is to throw them off, and when you land second, no matter where on the board, the monkey will go flying.
Jumping Jack feels just like a Universal game. There is a cute catchy music in the background, and of course, you have to get cherries. (Because that makes sense for a dude in the jungle). Plus all of the lettering and theme design is the same, and it looks like you can get "EXTRA" guys just like in Mr. Do!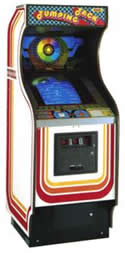 I played it for a couple of settings, about 20 minutes each. I had a hard time beating level one in Jumping Jack, but I beat level two on my first try.
In terms of the original game, it looks to me like it was a conversion kit for Mr. Do!, the only different piece was a different marquee. Pretty lame overall, I think the marquee even used the green backgound from Mr. Do!
The game has a number of levels, I am not sure what happens when you beat them all, if it goes back to level one but more difficult, like most games, or not.
A lot of fun, I would recommend it.
---
Before we went to Michigan the first weekend of November, there was a post in the Klov forums about the versions of Mr. Do! I had mentioned one member had a couple of email exchanges with the former CEO of Universal, the company that made Mr. Do!
I emailed that member this week (shacklefurd), another coin-operated arcade game collector in Indiana. He emailed me back saying he wasn't sure he still had the email address for the former Universal Games CEO, but he would check.
Here's crossing my fingers. How cool would it be to find the company that made the Mr. Do! with white sideart and in finding that company discover that some of their former employees still have some of the white Mr. Do!'s in great condition. No sideart flaking at all. I can dream:)
If Shacklefurd doesn't still have the email address for the former CEO, does anyone else have any leads? This Mr. Do! is becoming a little bit of my collecting grail. Shoot me an email if you can help me with any information about Gleeb or Universal.
Update – 4.15.09
Wow! Quite a bit of time has passed on this one. But, Jason S. was able to track down an email and more importantly a name for the former CEO of Universal and apparently he worked with other companies such as Exidy and Data East among others.
The original email he had bounced, and the new email I found got rejected, so I am going to keep digging. But I hope to finally find some answers to the white Mr. Do! character artwork license, possibly to a company on the east coast.
---
Interesting topic going on right now on the klov forums. One user was looking at the Mr. Do! entry on klov.com, and wondering which of the three versions there was the original dedicated. The correct answer is that there is more than one Mr. Do! that is "factory" dedicated, but only one directly from Universal.
Here is an exerpt from one user;
The other "dedicated" units were done by ops who wanted the games to look as good as possible. I have an old Play Meter article that talks about a lot of vending companies going out of their way to make Mr. Do! kits look like dedicated games… some even making cabinets just for them.

Lost in the collecting world is the fact that, in 1983, Mr. Do! was one of the biggest hits. 7th highest earning game that year, meaning only 6 dedicated games in 1983 out-earned Do!. 30,000 legal Mr. Do! kits were sold, roughly 10 times more than most Golden Tee kits sold nowadays. Only about 2,000 dedicated Do's were sold.
Opinion or not, pretty interesting information of how many Universal Mr. Do! units were sold vs. conversion kits. Even more interesting is a quote from another member here in Indiana (Shacklefurd) that actually investigated into my coveted White Mr. Do! cabinet with clown artwork;
A had series of E-mails with the former CEO of universal from the 80's a while back and here is what he said. The white one with the red yellow and orange strips came from Japan. The wood grain and the white with the clown side art were factory built by smaller companies on the east and west coast that bought the rights to release Mr. Do and other Universal games. So they are all "Dedicated", but the Universal from Japan is the one collectors think of as dedicated.
I should get in touch with Shackle and see if he has the CEO's information still and try to track down the company that made the White Mr. Do!
Until this forum thread surfaced, I had posted here that I was thinking it was a company by the name of Gleeb who made the cabinets and that Gleeb was also based out of Japan, not here in the USA.
Update: July 2013 I now have photos from inside two different Ladybug machines, machines that have very similar painted illustrated artwork to the white Mr. Do!, that show Universal serial numbers. Check out this post on two different factory Mr. Do!s.
---