When I first started in 3ds Max, I started hearing about "gizmo" this and "gizmo" that. I have found even in After Effects, this is a popular term when talking about transformation tools. Gizmo to me seems like an afterthought of what they decided to name something late into the development process.
Basically, a gizmo is a little helper for when you are transforming (rotate, scale, move) an object in your viewing plane, or orthagonal view.
In 3ds Max, there are three views, X = Horizontal, Z = Vertical, and Y = Forward and Back in dimension space. This may be hard if you are new to a 3d modeling program, but a 3 dimension space is what this type of program is all about, hence 3d.
So, when you choose one of your transform tools, (again scale, rotate, move or something else) a little 3d dimensional crosshairs comes up to help you know which direction you are applying your transform in. Each direction has it's own color, X = Red, Z = Blue, and Y = Green.
Without getting into an in depth explanation of how gizmos work, I just want to say that they are extremely helpful for making a shape change to the way you want it. I had some problems one day because when I was using my transform tools, the gizmos weren't showing up. I had to go hunting to try to figure out how to turn my gizmos back on.
So, to turn on your gizmos, if they aren't already.
Step 1: Go to Customize > Preferences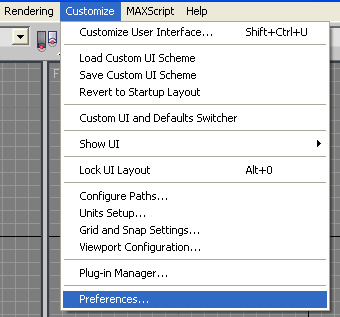 Step 2: In the preference dialog box you will see many tabs. Click on "Gizmos"
Step 3: Click "On" to turn your gizmos back on. You can see the option here in the upper left.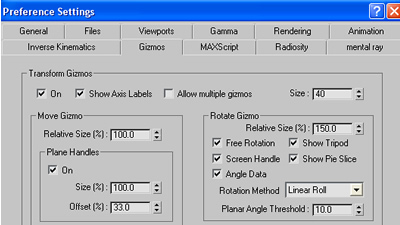 Simple, but yet when you are in such a complex program, finding something out simple like this, without knowing where to go can be very hard.
Here are some similar arcade posts
If you enjoyed this post, please consider to leave a comment or subscribe to the feed and get future articles delivered to your feed reader.