Has this ever happened to you? Three years ago during the course of my normal working day my Firefox was corrupted and all of a sudden I lost 100's of bookmarks never to be seen again. Gone! Poof! Now, I had backed them up, but like any normal person, did I back them up every day? Hell no.
Immediately I thought, "This is ineffecient, surely there must be a better way of storing offline booksmarks." At the time online 'social bookmarking' services, where we store and share bookmarks with others, were just coming into prominance so I gave it a shot and never turned back. Why is this important for bookmarking arcade game resources? Read on and I will explain in depth.
Too many social networks. Too many social bookmarking services.
Social networks haven't been around all that long, but already they have some negative associations. Social networks are black holes for sucking time that many people already start to think "Do I really need one more social network to add my information to and try to maintain?" But just because the word 'Social' is in the same breadth as bookmarking, doesn't mean that using a social bookmarking service is anything like your Facebooks and your MySpaces.
There are a lot of choices for sharing links out there, Delicious, Diigo, Magnolia, Furl, Blinklist and many other options and variations. Just type in 'Share This' in a search engine and you'll know more than you ever wanted. I started out using Delicious, and briefly used Blinklist. But Diigo blows every competitor out of the water because of its robust maintenance and editing tools and it was built with groups in mind. In their own words from the Diigo website;
Diigo enables effective collaborative research. You can easily share your findings, complete with your highlights and sticky notes, with friends and colleagues. A project team, a class, or a club can create a group on Diigo to pool relevant resources, findings and thoughts together.
Get on with Arcade Bookmarking! What are you – my grandpa?
As a collector, my knowledge of repair and restoration is in it's infancy stage. I am a creative thinker and don't easily understand schematics and electrical design. Reading articles written by experts on these subjects are like pulling teeth for me, I want the specific information I need, and I want it now. I have long given up on being a repair expert and I have better things to do.
So, what if I could find a resource on monitor repair and have the section already highlighted that might be of particular interest? That is just one of the many features of Diigo, highlighting and annotations. What if I want follow another collector who I know is an expert at restoration, like Brian Jones? Well, let's say Brian had an account and he was adding bookmarks, I could then browse what he was adding and his annotations and pick up some helpful insights into arcade cabinet restoration that I wouldn't have had before. Instead of one person searching for information, now it's two. Add in a whole community of users and you have a very targeted user base of information. Everyone is searching for similar answers and the possibilities for knowledge sharing are limitless.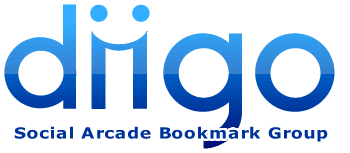 Individual Diigo Group Bookmarking Features
Once you sign up for a free Diigo account, you can then join groups of your choice. I have started the 'Classic Arcade' bookmarks group with the hopes of learning from other collectors and drawing new ones into the fold.
Joining or testing out the group is so simple and just a couple button clicks away. If you know nothing about any sort of service online, Diigo has streamlined the signup process where you could turn on 3:00 pm work self autopilot and cruise through the signup. Diigo has a free plugin for both Internet Explorer and Firefox, but unfortunately not Safari or Opera. (Opera I wouldn't expect, Safari I do and hopefully they will add that soon.) The Diigo website will install a nifty little toolbar that isn't too intrusive, at the top of your browser window. The installation is easy, and at least with Firefox, the plugin will automatically update with updated features. The Diigo toolbars look something like this;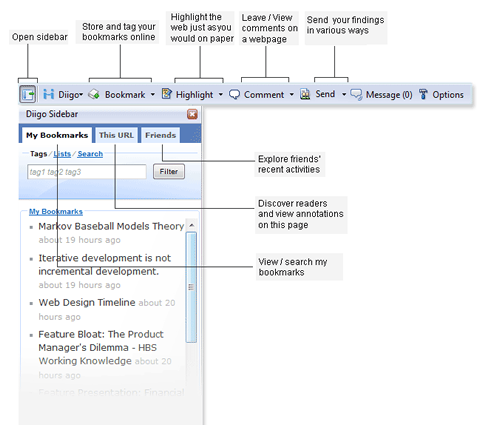 You can see a button called 'bookmark'. When you are on a webpage and you want to bookmark something, you click that button, a window pops up and you enter your savings details. Here is what that window looks like;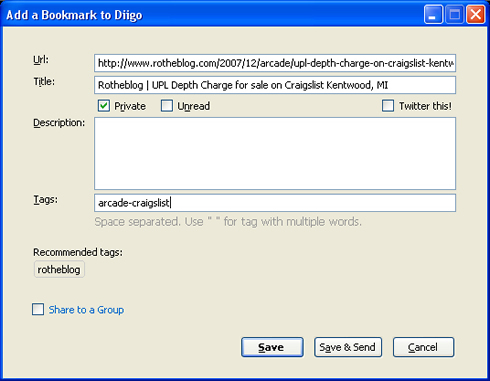 You see the URL of the page you are bookmarking, in this case, a blog post here on Rotheblog about a really old arcade machine that sold for cheap on Craigslist in MI. Next you see the title of how your link will be stored taken from the