Last night I talked a little bit about my priming experiences with my Ms. Pac-man cabinet. I had mentioned I had put down a pretty ugly first coat of Glidden blue.
I am proud enough of this second coat of blue on my Ms. Pac-man to show it off here today. Just got finished and really happy with a couple of things, mostly how well the second coat covered up my first thick streaky coat of the Glidden Rhapsody.
Spray Guns – Distance is everything
In my first coat of blue I was laying down the paint with my Harbor Freight spray gun about 5 inches from the cabinet. Now, I was trying my best to go over lines to smooth them, but no matter what I did (I experienced this some with the Bulls Eye primer as well) I got horizontal streaks.
On the Ms. Pac kickplate I laid down a second coat right away, switching the spray orientation of the gun nozzle and moving vertically. The Kickplate looked good, so I resolved that today I would do the same thing on the sides of the cab.
However. I spoke with Chris again tonight, and he told me something that made a huge difference. I really needed to be spraying 8-12 inches away from the cabinet. That distance was everything, check out my work now.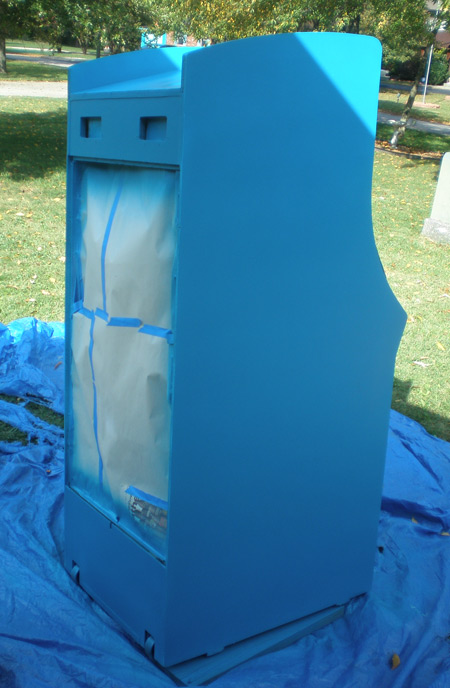 Now, I could have probably done a ton of research on proper spray gun techniques but I didn't. The Harbor Freight instructions suck, and I was definitely learning as I went. I had seen Donnie lay down the blue in Part 3 of the Ms. Pac-man stenciling tutorial and didn't understand why the spray was so light.
I thought to myself 'That will take forever, how many coats would you need at that spray thickness?" If the paint isn't running, why can't the blue be sprayed with a little more density? Well, it isn't just about the potential for running paint, it is all about the fan of the spray, which Donnie did mention a numerous times.
But, like my tutorial says, practice so you know the proper spray quantity and distance. Well, unless you have some frame of reference, what should that be? I know I sprayed on cardboard, the paint came out, I was able to lay it down evenly with a controlled pace and I said "Looks like I'm good" I knew nothing about distance.
So, nearly a foot. That is the important distance to be at when spraying paint onto your arcade cabinet. Speed might not matter. 5 seconds the horizontal width, 10 seconds the horizontal width, I think that may be a matter of preference. As long as you aren't getting streaks of paint on the wood, you're good. And even that is correctable.
I wasn't sure I could paint over my first coat without the streaks showing through on my Ms. Pac-man cabinet from there on out. I was about a step away from going back to Home Depot for some foam rollers. I have painted many many rooms in houses for summer jobs and know the proper amount of pressure, paint and the type of technique to get an even roll. But I didn't need to, and I am happy.
More Ms. Pac-man Blue – Sunday the Yellow
That is my guess right now. One more coat of blue, and Sunday I will attempt to do the yellow if possible.
My cabinet doesn't look nearly as smooth in terms of condition / holes etc. as Donnie's does. But I think that for my first time I am finding this project very fulfilling and happy with what I have been able to do since I am so dense at this sort of stuff. I have my areas of expertise, this is definitely not it.
If I was smart, I would have figured out a way to still use the rolling wheels on my Ms. Pac while covering them up and not laying paint down on them. What should I have done for that? I didn't want to have to use my rolling cart and risk scratching the cab. Or should I have used the rolling cart? Suggestions?
Here are some similar arcade posts
If you enjoyed this post, please consider to leave a comment or subscribe to the feed and get future articles delivered to your feed reader.