You never know what will show up on ebay. This week it was a Tron jacket made by Adidas that ended up selling for $152.01! Crazy.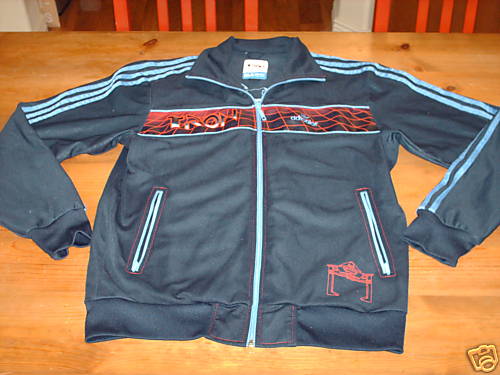 Tron memoribilia value in anticipation of Tron sequel
Some of these Tron collector / memoribilia items should see a small increase in value as we near the release of the sequel next summer. I was pretty blown away to see the final price on this jacket, considering they came out in summer of 2006 selling for $90 a pop. According to Blogofwishes.com this Tron jacket is part of Adidas' 'Adicolor' series, which was launched in 1983 as a line of shoes only that came with paints and brushes to design your own shoe. Certainly a ton cooler than the homemade Agent X jacket I posted about a while back.
Here are the photos from the auction (Click the last photo not from the auction to see a larger detail of the sleeve), a screen of the final auction price and the text describing the item;
Up for auction is a rare track jacket from Adidas from the Adicolor range which features graphics from the legendary Disney film, Tron. This jacket has been worn and washed and Tron graphics on the front, circuit board print on the sleeves and embroidered lightcycles on the back. There is a small tiny scuff on the left arm near the cuff (in picture 6) and there is a little bit of fraying to the baby blue trim on the arms. This is an amazing and very rare jacket and a must have for any Tron fan. The measurements for this jacket are: armpit to armpit is 22″ and from the back of the neck to the bottom of the jacket is 31″.
Rare? A 75% jump in price would support that argument, but I doubt we can classify it as such yet. Thanks to Chris on the update on when this jacket was actually released. Visit my Tron arcade game page for more information on the original classic cabinet.
Tron Collectibles
What are some of the best Tron movie promotional items you have ever seen? Post a link? I personally thought the limited edition figurines were pretty cool.
Here are some similar arcade posts
If you enjoyed this post, please consider to leave a comment or subscribe to the feed and get future articles delivered to your feed reader.