In all of its file cabinet glory? Well, James is talking a little bit about that coin op documentation over at the Aussie Arcade forums. You'll need an account to login and view the thread.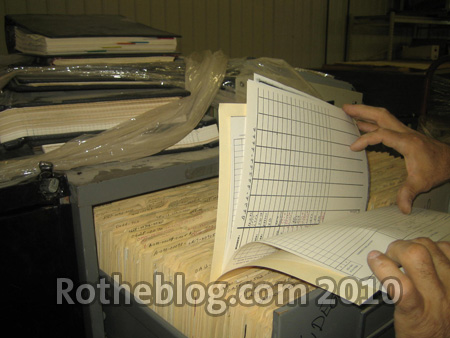 Image of Williams / Bally history coming into focus
In 2009, some details came out concerning the Illinois Pinball Warehouse, the purchase and the subsequent selling of parts. Later in the year, original Bally films were sold for around $5,000 total on eBay. But for many of us, the some 200,000+ documents showing suppliers, distributors, parts lists and production dates are really the most interesting piece of all.
James has started out by delving into the history of a man named Gordon Horlick, who was possibly an under-credited designer on many of Williams early pinball machines. Here is an excerpt;
I've started with the Williams files going back to the first machines (from the 1940's) and the one name that keeps popping up is Gordon Horlick. It seems he was the chief engineer for Williams at the very beginning and was there until at least the 70's. While Harry may have gotten most of the credit for game design it appears the real man behind the designs may have been Gordon.

As I now find myself intrigued about this person whom I knew nothing about until these files I am going to do some research and see if I can create a detailed bio of Mr. Horlick.
We all hope James will continue to look into those documents in those cabinets, and share as much as is possible for one man and his time constraints. We'll update more as it comes to light, but make sure to check out the thread. Pinball Inc. will be comparing some release dates to the production dates of the original Williams pinball machines. Cool stuff.
I am personally hoping that we get to see a list or two of the parts suppliers for some of Bally Midway's famous arcade games. What would you like to see?
Here are some similar arcade posts
If you enjoyed this post, please consider to leave a comment or subscribe to the feed and get future articles delivered to your feed reader.