Found? More like tracked. Four years ago, nearly to the weekend, I was at a local Sherwin Williams picking up yellow paint to use on my newly acquired Pac-man arcade cabinet. With the backdoor in hand for color matching I met a girl who knew the significance of that piece of wood which started a dialog that led me to make some interesting finds.
I found an operator 30 minutes into the arcade hobby
Timing, timing, timing. My broken record has dug a groove deep enough for Danny Devito to sit down and have some 'me' time. But this hobby is all about timing. Sitting in front of the computer at the right time, driving past a garage sale at the right time, calling a store or even an operator at the right time – many great arcade games have been found to what essentially boils down to luck. *Raises his hand sheepishly*
Here's the story, of an arcade lady
I met this girl whose father had passed away, but was a small time operator in Indianapolis. This led me to buying a Tempest mini from the mother, a consignment with the daughter and cleaning out the remaining lot of arcade parts used by the father. But when I found my own personal treasure, equipped with all my wisdom and foresight, I looked at it as if it was a Dynamo cabinet covered in pigeon brownies and said "Eh, you can keep it".
That treasure? A Universal Mr. Do!, right here in town. Not only a hard to find game, but this one I have been told was never on location.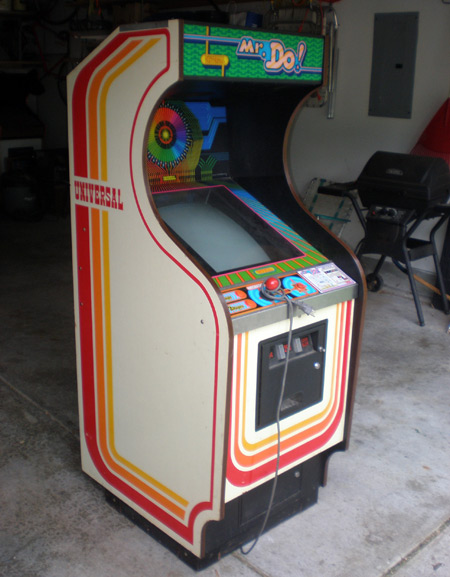 It's not HUO, or NIB or anything, but it looks pretty stinking amazing and just about as close to mint as you might find.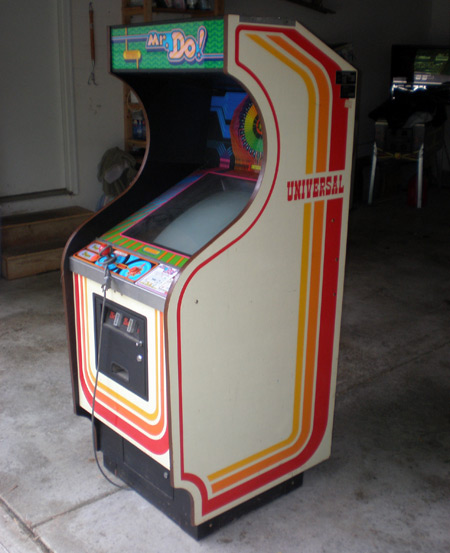 By the time I knew I wanted the game I didn't have the mother's number or even a name – only the house. Once I finally got in touch with her, she didn't have the Mr. Do! anymore and said her son had hauled it home. I did some research and cold called him – He didn't have the Mr. Do! either. Turns out, the gal I met now had it in her possession.
Four years later, with a follow up email or phone call every four months, she was ready to sell the Mr. Do! Last week, I brought it home. Here is a photo of the bottom power supply, look at how relatively clean it looks (her father always unplugged the power to the ballet before storing it for the winter)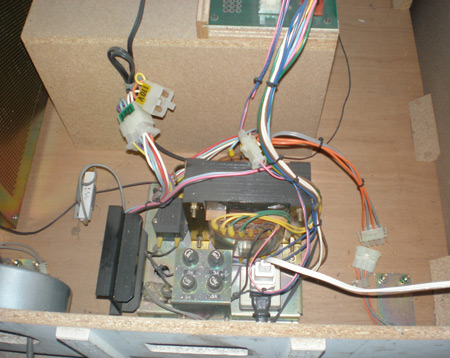 In with the new, out with the old – Mr. Do!
This of course means that my Mr. Do! from west side of Chicago, that required such a large amount of planning, time and resources to procure, is now on the chopping block. I am 99% sure that I have it sold – a gentlemen's agreement. If anyone is interested to buy a Universal Mr. Do! around Indiana, drop me a line. Its always good to have backups.
Also, if you have an amazing Mr. Do! story in equally amazing condition, drop me a line. I know Brian Adkins has owned a pretty awesome Mr. Do!, and there may have been a NIB one pulled out of the Time Travel Warehouse – but I would like to hear all of your stories nonetheless.
Here are some similar arcade posts
If you enjoyed this post, please consider to leave a comment or subscribe to the feed and get future articles delivered to your feed reader.