For seven years I've been writing about a weird Mr. Do! cabinet, a white cabinet with illustrated artwork. There have been a number of cabinets with the same shape, and the artwork is similar, including a pink themed Ladybug. In Aug. 2009, I had an indication that this style of cabinet was licensed and product by Tehkan.
Today, I have a different theory – with some new photo insights. (more…)
---
Was online talking to g3n3r1c (Klov forums) tonight about reproduction artwork and he mentioned that he used to work for an auction house in Royal Oak called SkyRocket Amusements. Not only did 200+ games come through per week, he said that he saw one of the white Mr. Do!'s. (more…)
---
I am waiting with bated breath to hear if this arcade deal actually happens. A contact of mine is supposed to be driving to Santa Maria, CA to buy the white Mr. Do! that was for sale.
Last I heard, the purchase was supposed to happen this weekend. That is when I last heard about the Mr. Do! deal back three weeks ago. But I haven't heard anything more.
Either way, I could have full size scans of the rare white Mr. Do! sideart by the end of next week:) Check out my original post on the "White Mr. Do! with Sideart for Sale!" to learn a little more.
~Update 12/18/07 Sounds like things didn't work out for a pickup of the Mr. Do! machine on the 16th of December. Things got pushed back until February of 2008.
---
Love this bezel, this Mr. Do! artwork is valuable to me. But as we've seen, one of these bezels is worth about a whopping total of $2. That's not private sales, that's eBay! The fact that these bezels are about worthless doesn't change my motivation to vectorize the artwork.
Last night and earlier this morning I finished what cherries I could on the bezel that goes to this rare "white" Mr. Do! with sideart. There are five sets of cherries on the upper right, two on the middle right, and one in the top middle. Two of the sets in the upper right repeat, which is great because those cherries are on the bezel piece that bends, that I don't physically have.
So, as of right now, I don't have good enough photos to trace the middle cherries on the top right, and the cherries in the top middle. I bent one of the photos I had for the top Mr. Do! bezel portion to help me piece together some things, but I again have to wait until something else comes up.
The Mame guys have the Mr. Do! scans and photos I do, so I am hoping that maybe they can do something with the top that I don't know how to do. Here is what it looks like.
Later in the day I got additional photos that were hi-res enough to trace the missing cherries on the upper right. They also showed a sixth set of cherries I hadn't noticed before at the very top, so I traced those too and included them in the artwork. Now all I am missing are the cherries at the top!!
---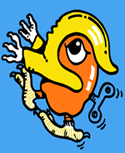 Finally getting a chance to post an image of the Wind Up Mr. Do character that I got to trace last week.
Weird looking guy, but hey, I like the game and it is the only real sideart I know of. Other characters are cooler looking, I may get to them next week.
---
Got another zip file today of detail shots of the bezel artwork, thanks a ton Rob. He sent me a close up of most of the characters, so I have something really solid to get a start on now.
I posted on the BYOAC forum about the white Mr. Do sideart, as well as the Mame Artwork forum, so hopefully someone will be kind enough to help me and to know either someone who owns one, or have photos or artwork already themselves. We'll see, it is a tough find.
---