To date, four fully illustrated white bootleg arcade games have surfaced – Ladybug, Mr. Do!, Jungle Prowl and a Train themed game (Working guess D-Rail). When I picked up my Mr. Do! in 2009 I noticed a tiny logo on both sides of the cabinet that looked like an Eye nestled inside of a letter G. Finally, we now have a theory on the company that goes with that logo.

Magic Electronics and the "Eye-G" mark
A little mark on my Mr. Do! cabinet spurred on research from the community to find more examples and uncover the source. For a really clear example of the mark, here is a photo taken from Jungle Prowl showing a mirrored version (misprint?)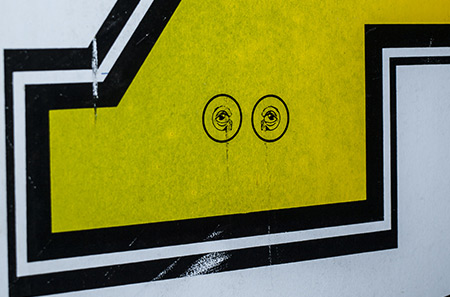 It started with artwork from games such as The Glob and Eeekk, and with the help of a number of individuals (thank you again to evewalker and z3k3), we started to find this mysterious logo popping up on artwork by Magic Electronics and some of their related companies.
Magic, Omni, Glak, Eagle – Who created this mark?
Its brand soup when researching Magic Electronics and all of the companies Frank Gaglione and Kevin McIntyre spun up to create and distribute arcade games. The list goes:
Omni Video Games
Glak Associates
Eagle Conversions
Magic Conversion Co.
Montgomery Vending
Ferncrest Distributors
Associated Overseas
Fortunately, Keith Smith (The Golden Age Arcade Historian) has already gathered a number of resources that include information on these companies. He referenced an article (Likely either Playmeter or RePlay) that stated that the Glak Associates team had the ability to silk screen artwork – inferring this was the team that was behind artwork development for all of Eagle Conversions / Omni Video Games / Magic Electronics games and conversion kits.
To date, here is the current list of confirmed games that have this mark incorporated in the artwork. Please contact me if you have any other sighting that should be added to this list.
Mr. Do! Bootleg
The Glob
Eeek!
HB's Olympics
Driving Force
Special Forces
Super Ship (Panel / Kit?)
Legend of Kage? / Samurai Nihon-ichi?
Ghosts n' Goblins?
Glak Associates was incorporated in September of 1981. The first appearance of this mark, or potentially Glak Associates logo, was with Mr. Do and Jungle Hunt (Prowl) in 1982.
This mark was not only on games by Magic Electronics…
One interesting thing I noticed, this mark revealed the possibility of another relationship in the Magic Electronics company soup – Crown Vending.
In 1984, Crown Vending distributed two new games:
Hero Castle of Doom
Superbike
On the marquee and overlay for both games we can see this same mark. (Prominently on the left, in the yellow)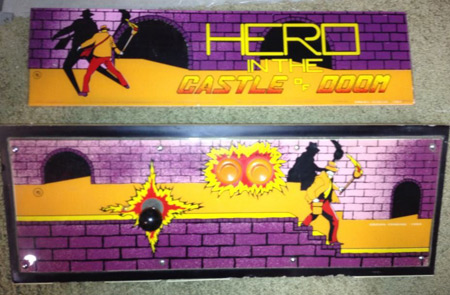 Not only was there a tie to Magic / Glak through the mark, but an indirect tie by the licensure. Seatongrove UK created "Castle", and also created 8 Ball Action, licensed to Magic in the same year (1984). Superbike is a Century Electronics license (Also out of the UK), and Magic also licensed HBs Olympics from Century (All 1984).
Only 4 hours away from Crown Vending in Corona, NY to Magic in Cranston, RI – it would seem like Magic had built strong direct regional relationships (or indirectly through Ferncrest) to push their games through the east coast. If it wasn't already obvious, there appears to be a stronger tie to Crown Vending…but that is a story for later.
In Closing
Similar to my article yesterday on the history of Eagle Conversions, please contact me or leave a comment with any update to the information above.
Again, if you have any examples of artwork where this Glak Associates / Magic Electronics mark is present, please contact me. It would be great to continue to expand this list.
Related posts
If you are interested to read some of my posts chronicling this journey and all of the different sightings of these cabinets, you might want to read:
Update December 2013
Grant (Evewalker) out of Pawtucket, RI has continued to turn upp a number of these cabinets by Glak. In the last week, he found a War of the Bugs (the marquee has the insignia) and Cruncher. (Cruncher is a Pac-man bootleg)
If picking up both games wasn't enough, he also found some accompanying paperwork and schematics. Below is a cover of the schematics from Glak Associates, one of the first time tying them to the distribution of these cabinets. Here is the front page.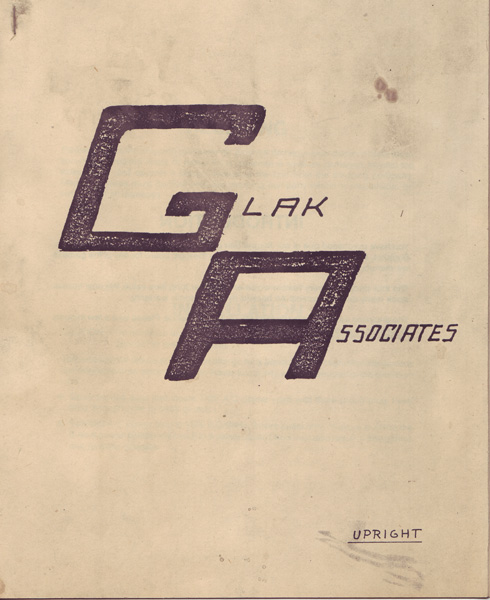 Image Credit: Grant (Evewalker)
Here are some similar arcade posts
If you enjoyed this post, please consider to leave a comment or subscribe to the feed and get future articles delivered to your feed reader.