If you've followed my progression of collecting arcade games over the years, you'll know that I have a fascination for those games and manufacturers who were not well known and their history has largely been lost over time. One of those companies, Rhode Island based Omni Video / Glak, has been particularly fascinating due to their sorted legal past and the notable lack of identifiable branding to connect the company to their own cabinets.
Well – That was until I picked up these two games out of Maryland. There is no mistaking that these are Omni cabinets. And yes, the spelling of Figther is intentional, more on that in a bit.
Two Omni Games Surface
Back in late December, Ken Holcomb in December shared photos of two games that he had found as part of a larger operator raid on the east coast. The two games in question were Space Guerrilla and Moon Figther (marquee spelling), the Space Guerrilla I recognized immediately from an old flyer – an image of which I've included below. My favorite part of this printout is the attention to detail – the text advertises 'Space Guerilla', but in the background the marquee on the game clearly reads 'Space Guerrilla'.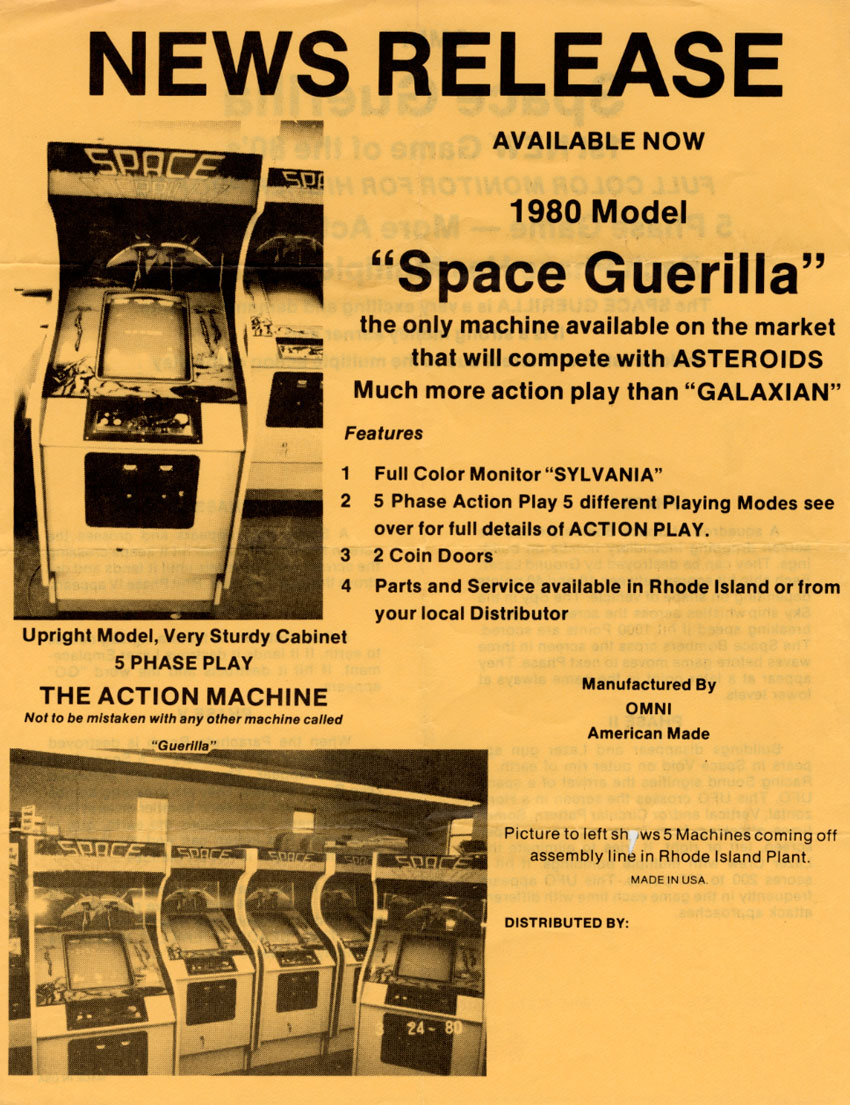 I knew Omni had manufactured at least one game in this cabinet, possibly more, but I'd never seen a Space Guerrilla cabinet previously.
I've only ever seen one other cabinet they produced in this Universal style white cabinet. Back in April 2011, Steve (SRW handle on the arcade museum forum) had shared some photos of a Meteor cabinet from his collection, that has the same cabinet, style of printed artwork, and that signature one piece curved bezel.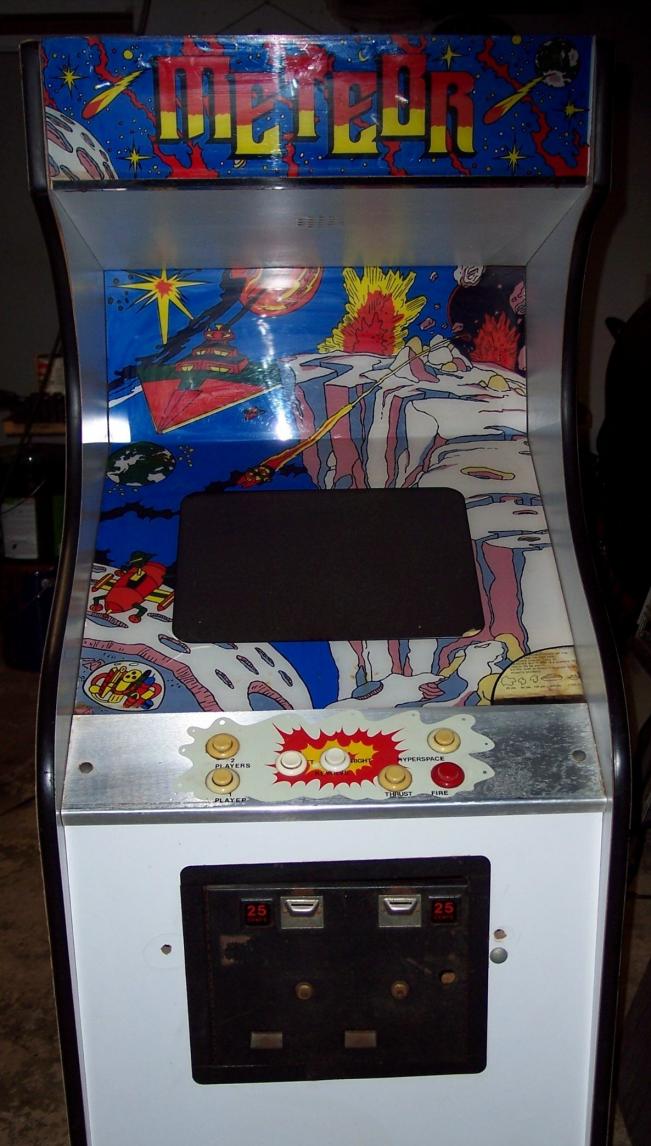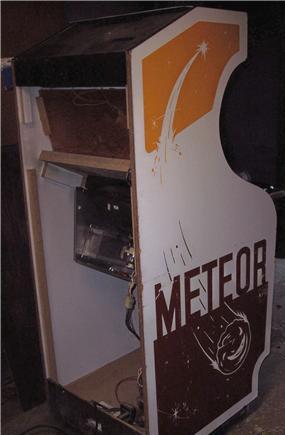 Ken and I worked out an agreement for the two games and from there Ken and Andy, his partner on the warehouse purchase, took care of all of the shipping arrangements on their side. I can't say enough about their job getting the games palleted and ensuring they were shipped with care. Ken unearths interesting items on a regular basis, if you are looking for a particular item I would suggest connecting with him on Facebook, as well as Andy Lee – in particular if you reside in close proximity to Pasadena, MD.
Photos of the two cabinets
Here are photos of the two cabinets after they arrived here in Indianapolis, with a quick wipe down. I like the yellow / black color combo on the cabinet, it isn't a common color palette for games and unlike some of the other busy, chunky artwork on the Mr. Do! and Ladybug cabinets this artwork has a certain level of beauty through simplicity.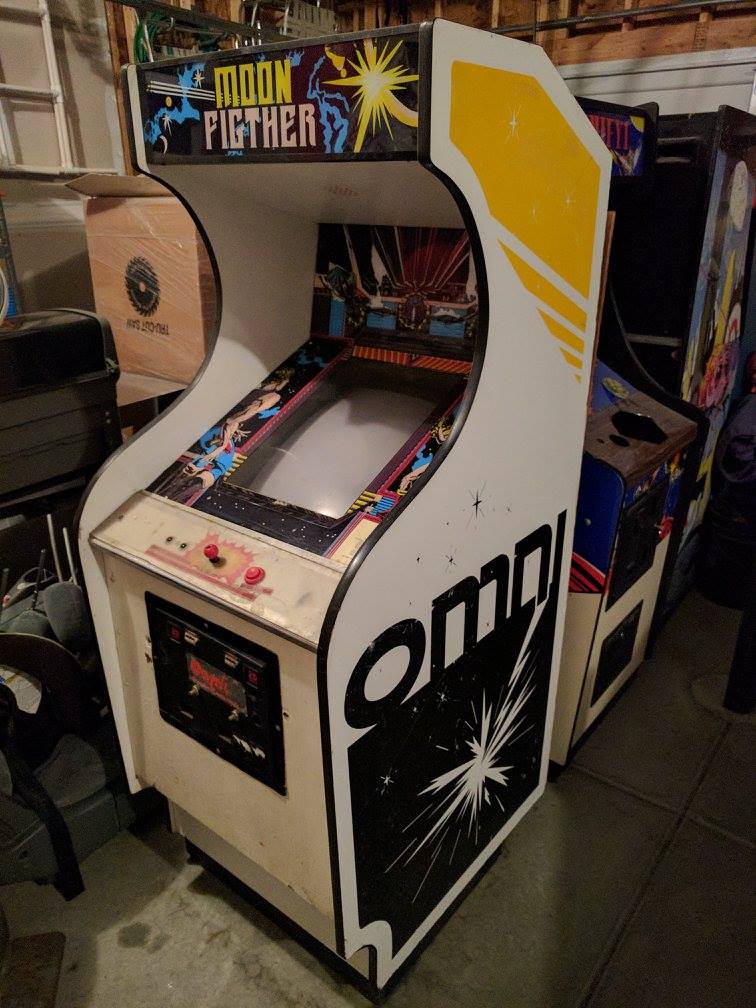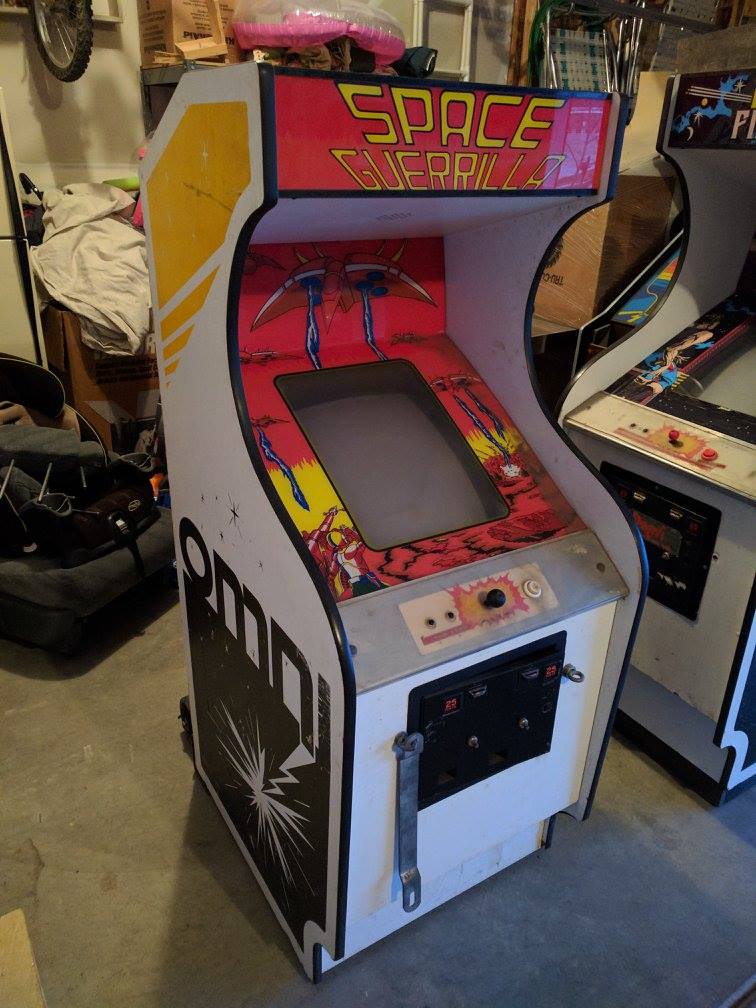 What was immediately clear when seeing the games in person, is that the artwork is distinctly different. The Space Guerrilla artwork is simple, the shapes simplified to a level you would expect to see in animation, where the Moon Fighter artwork is much more ornate.
Some brief poking around, it would appear that the Space Guerilla cabinet could have been originally licensed from Omori Electric Co., Ltd. in Japan. The artwork on this Omni cabinet appears to match the artwork on this 1979 flyer from Omori.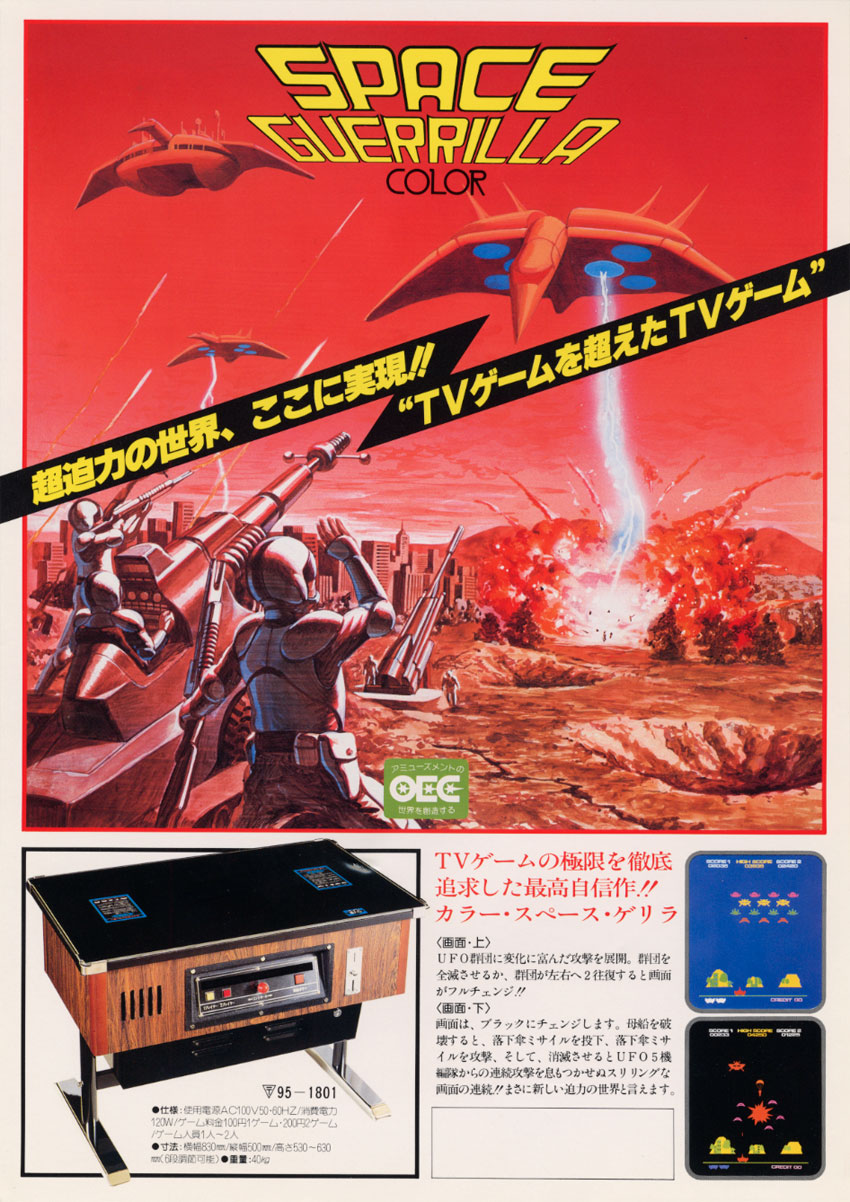 I don't have much additional information on the Moon Fighter at this time. I've seen the Moon Fighter cabinet before, but only in the smaller 'Super Star' cabinets that Omni produced in their woodgrain style cabinet.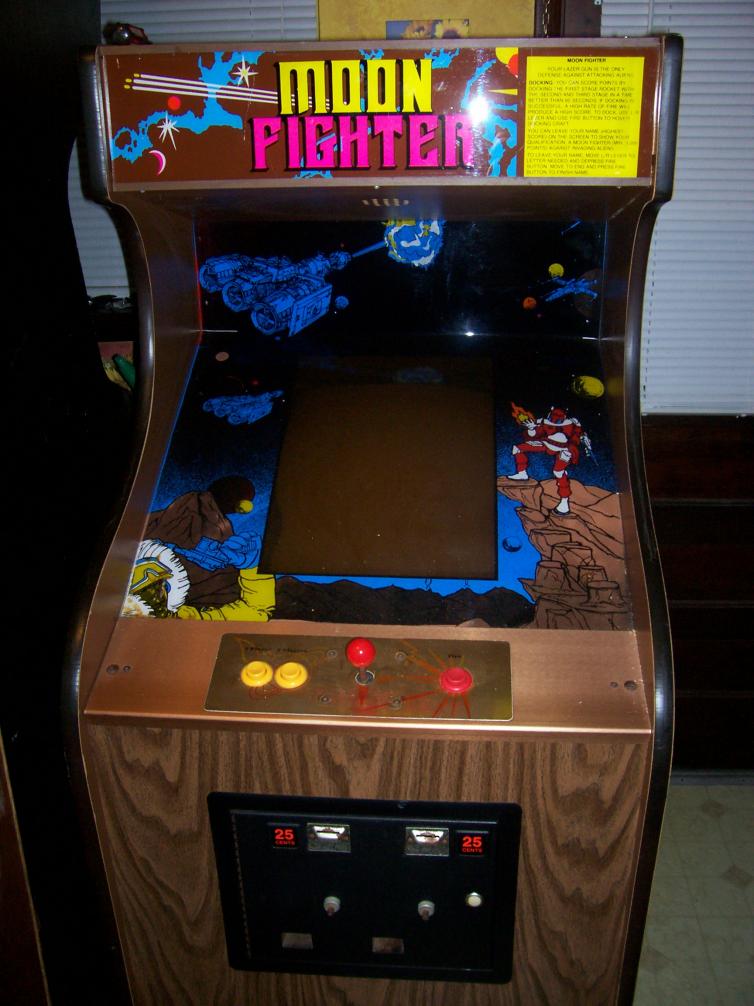 Note even the differences here in artwork between the two Moon Fighter cabinets, including the modified spelling of "Figther" to "Fighter".
Closing
With these two cabinets, that makes four total in my collection – including the Mr. Do! and the "Train" game that has yet to be identified (Speculated D-Rail, possibly Express Raider?). My hope is that I'll be able to pickup the Ladybug and Jungle Prowl sometime in the near future.
I am always interested to learn more about Omni. If you were involved with Omni in anyway, as an employee or indirectly as a distributor, operator who purchased Omni games or supplier who provided materials – please contact me.
Additionally – If you have a cabinet like one of these that you are looking to sell, please send me a message today. A couple of other games made by Omni include Meteor (referenced above), Red UFO, Spiders and Piranha. Keith Smith conducted some thorough and fascinating research on the company, a more complete list of Omni games cane be found on his Golden Age Arcade Historian website. Additionally, there are other games that were produced by Omori that have a slight chance of being licensed as well including – Sky Way, Sky Base, Fire Star, Dog Race.
Related Reading on Glak / Magic / Eagle / Omni
Over the years I've written a number of posts related to these cabinets produced by 'essentially' the same manufacturer based out of one location in Rhode Island, starting with my initial research into identifying the maker of the original White Mr. Do! cabinet.
Check out these posts to see photos of the other cool cabinets they've produced.
Here are some similar arcade posts
If you enjoyed this post, please consider to leave a comment or subscribe to the feed and get future articles delivered to your feed reader.